Have you ever seen a Viking-fish? How about a Black Hole Fish? No? Alright? How about a vampire elephant, or a Pigzilla? Whether you're confused or enthused, we're hoping that this article about the crazy events in our games will show you the limitless creative potential of games about fishing and hunting.

Despite being known for our clash mechanics, our portfolio has two titles which we call our evergreen games (named after the concept of a game that stays relevant after many years). Let's Fish and Wild Hunt are popular among players who want to engage in their hobby online and participate in unique events featuring time travel, car races, alien invasions, superheroes or trips to space.
Shot into space
Let's Fish is our oldest hit game. Despite being 10 years old, it still has loyal fans. The same applies to the 5-year-old Wild Hunt. The former allows you to angle for 2 thousand fish in 123 fisheries, while the latter offers 9 regions with 4 locations and 150 animals each. That content is very realistic and it shows each detail very faithfully to give players the optimal experience with their outdoor hobby.

For the game to stay attractive and provide entertainment to players, our product teams keep creating special events, where everyone will find something that tickles their fancy. From tournaments, through daily challenges all the way to lotteries. Sometimes, unique events appear where players have the chance to hunt a unique species, fish at unique locations, or unlock rare weapons. "In my TSG career, we've executed many wild ideas along with our Live Ops Designers. One example was a safari, for which we've created fish-lion, fish-flamingo, and fish-elephant hybrids, among others." says Aleksandra Feldy, 2D Graphic Designer "We blasted off into space in our planetary event, in which we saw fish-astronauts, fish-black-holes, and UFOs at the fisheries. In our time-travel event, we drew inspiration from Back to the Future." she adds"
April Fools with Pigzilla
Where does the TSG team get its inspiration for themes? "We look for inspiration in cyclical holidays and pop culture. We want to respond to players with different interests." producer Artur Bejm explains. "To celebrate the Chinese New Year, we prepared dragons, the 4th of July was celebrated with aliens in reference to Independence Day, Super Bowl featured football helmets, and Oktoberfest featured the wolpertinger, a Bavarian folk creature." Monika Cepińska, Live Ops designer tells us.
Of course, Halloween saw monsters arrive in the games, while April Fools marked the arrival of pigzilla. Events are also adjusted to regions where the game is popular. For example, during the holidays, users from Colorado and Oregon will be happy to find "their" local artefacts. "While looking for inspiration, we look at what the biggest games in the industry, like Fortnite, League of Legends or World of Warcraft are doing. Sometimes we incorporate our own local holidays, like Polish Independence Day into the game, to not only provide entertainment but also introduce our players to Polish culture." Monika summarizes.
Saving the strangest for later
While Team TSG's creativity knows no bounds, creating realistic content is a bigger challenge every year, due to, for example, software limitations. "If you want to avoid repeatability, you have to get creative to fill the game with fun content." Bartłomiej Kurzok, Senior 2D Graphic Designer explains.
"In Let's Fish, we have a special document where we write down our wildest ideas. Then, we decide which ideas are the best together, based on their innovative nature and our artists' capabilities." Weronika Nogaś, LiveOps designer adds. "When we're given a list of 'liveops dreams', that we're not able to execute at a given time, we still save them for later. An example of that is the steampunk event featuring mechanical fish stylized for the Victorian era. This sort of event did a great job in Wild Hunt as well," she laughs.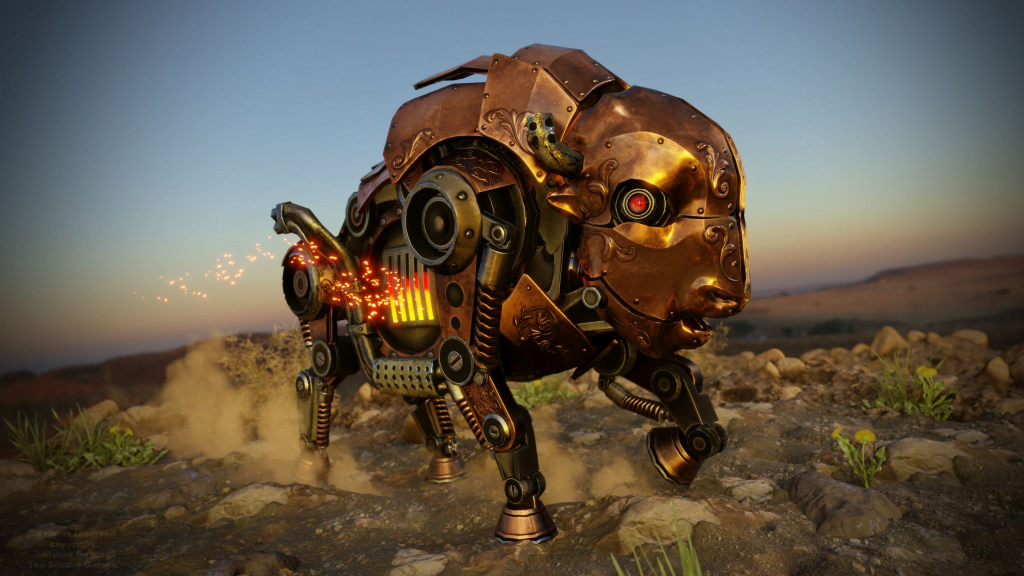 Facts and interpretations
The most interesting ideas are borne out of a loose interpretation of real-life events. One of such events was Wild Hunt's Nascat. "It referenced NASCAR races, which are very popular in the US. Our idea was to show the idea of speed through wild cats. We then put some helmets on them and stuck vinyl stickers referencing racing stripes. We gave them appropriate names, too: Dash, Boost, and Lightning. They moved really fast even without being frightened." – Artur Bejm explains.
Another example is our event about a research expedition in Siberia. The basis for it was a storyline divided into three stages, where the team used comic-book style drawing, with references to historic characters related to hunting using old-school notebooks and drawings from a given expedition.
Creating vs doing
"When talking about events in games, I always remember an interview with Monty Python. Asked, whether jokes come easily and constantly to them in real life, they answered 'No, we just worked very hard.' We're very similar." says Bartłomiek Kurzok, Senior 2D Graphic Designer. "Of course, coming up with events is fun since everyone can show off their creativity, but afterward, you have to be professional and finish the project, and that's systemic, craftsman-like, routine work," he adds.
"As an artist, you receive ideas for events from LiveOps Designers," Aleksandra Feldy describes, "we create a vision for the event together, creating a mood board with inspirations and references for art. At this stage, anyone can add an idea to the event and we'll decide whether it's doable," she adds. Each event thus includes a large set of visualizations, including fisheries, 9-12 unique fish, special lures and loading screens, magazines, banners, and sometimes trophies. The art team usually needs 2 weeks to create a new event set, with many challenges arising along the way.
Evergreen challenges
"When it came to the aforementioned Nascat, the idea itself sounded great, but immediately we had to ask ourselves… 'how?' Not being able to place cars, or a race track in the game, we had to find different ways to show the players that they're in a race. In the end, we divided the event into 4 stages, each representing a lap. That idea was then transformed into content by our artists, and into code by our developers," Artur Bejm explains. "We create mobile games, and every time we have to ask ourselves how to adjust to those devices," Monika Cepińska adds. "Our app has its limitations, we're moving in a world that's already created, and we can't do everything, because the technology doesn't allow us to yet, or the art is too resource-heavy and makes the game load too long," Bartłomiej Kurzok summarizes.
"Wild Hunt, which is the game I'm working on isn't the newest game, which brings about challenges, such as flatness, lighting problems, a lack of diversity in the details." Mateusz Bogusz, Senior 3D Generalist tells us. "To correct that, we came up with rendering reflections on existing textures. Perfecting what we have is sometimes hard work, which is still extremely needed to ensure comfortable fun for the players. When we fail to do something right, the effect is visible… and the players aren't afraid to tell us about it," he adds.
It pays off
At TSG, we analyze the effect events have on the game's financial results. The data we've been gathering for years shows us that many players are waiting for special events, being more active when they come. The events have players spending longer in the app and investing in, among others, new weapons and trophies (like 42 bolt-action rifles, 26 automatic rifles, 24 crossbows, 23 shotguns, 15 bows and 4 pistols available Wild Hunt!)
The events are a fun catch for our players, which makes us create more and more unexpected, futuristic and comedic events, driving our creativity into 6th gear.