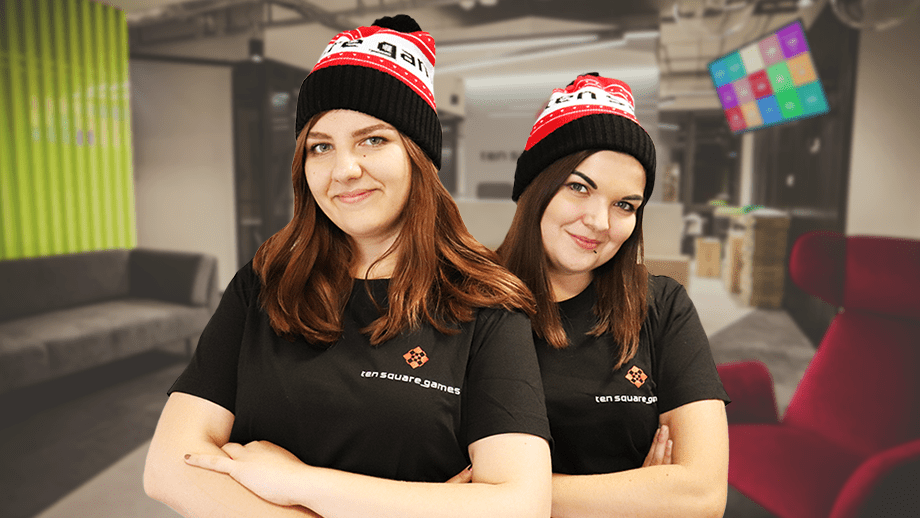 OMG, I've got a job interview! That is how to cope with over-excitement.
Here it is—the impatiently-awaited email. Click it, read it, and skip with joy, bursting with energy. Hop and jump, laugh, and clap. Does it sound like you after getting a dream job interview invitation? Admittedly, not all of us are so expressive (!). But regardless of how we show our emotions, here are a few things we should bear in mind to be successful in our recruitment process.
A greenhorn's revenge. Let's grill the grillers, shall we?
I'm new at TSG: to begin with. I got the job only a couple of months back and still remember the whole recruitment process: the first phone call, the email with my aptitude test, and—most vividly—the job interview with Kamila and Ania, our TSG recruiters.
Funnily enough, it'll be now my turn to interview my former interviewers. And, since it's all still fresh and somewhat new to me, I feel very much obliged to touch on the company's job interview questions. Yes, I mean it—the actual interview questions. Don't have a cow, though, as I can't give out all the details. It wouldn't be fair. Not to mention, I'd break the law if I did. Anyway, I'm sure this handful of info will help you achieve a bright and successful career. So, let's ask our TSG Recruitment Specialists what an applicant should do before answering job interview questions (oh, my sweet revenge!).
Stage one: Interview preparation.
The game's on.
Me: What do you think should be the first step of a job interview preparation?
Kamila: Good research is a must. We need to get familiar with the company we'd like to join. It's worth knowing how long it's been around for, its scale, the main activity focus, and achievements. It's always good practice to check out the company's website and have a glimpse of its social media profile activity. It'll help the candidate get the vibe of the inside-like company atmosphere before the interview.
Me again: Can you say a bit about the most frequent mistakes in the interview preparation?
Ania: Let's get back to question no.1 and the importance of proper research. If candidates can't tell us what the company does, or what products it has in its portfolio, we may start wondering why they actually decided to apply and whether they're genuinely interested in working with us.
Another one from me: Is it even worth preparing for an interview?
Kamila's ball back: It depends on the person, really. We're all different. Some would feel more comfortable having everything planned, and would even try to envisage what may happen during the interview. They would play various scenarios in their heads. Others, however, wouldn't feel it's necessary and they'd play things by ear.
My next serve: And what if someone isn't great at preparing?
Ania's return: There's nothing wrong with that. It means that the person is capable of getting to grips with chaos. And that's quite an asset! We always make every effort to make the interview a totally stress-free, pleasant, and relaxed experience. So, even though you're not the planning master—we're sure you'll make it!
Stage one completed. Level up: The Interview.
For some, it's a walk in the park. For others—an Elm Street nightmare. A job interview can be both: a pleasant experience or a terrible episode you'd love to forget about ASAP. Luckily, you can increase your chances of securing the position you've applied for. And it's quite simple. You only need to know what sort of questions to expect.
Round 2.
Here we go again, me: In your opinion, how important is the first impression during a job interview?
Kamila's hit-back: It goes without saying that the first impression kicks in instantly and a mental image of a candidate is drawn in our heads. We're all humans, and it's normal. So, a handshake, smile, tone of voice, eye contact—it all matters. Obviously, we realize that the first impression may be misleading. That's why the conversation helps us verify it by getting to know the candidate better.
Now, the one I've always wanted to ask real recruiters: Do you girls ever get stressed before a job interview?
Ania (both girls chuckling): Not at all! We're always optimistic before each interview. It's how we create a relaxed atmosphere the very first moment we meet and greet candidates. It allows everyone to feel comfortable. It also shows our TSG working culture. No stress—that's our motto!
Ok, here comes another one from me (I thought I'd be smart and ask a real puzzler): Can you remember a particular job interview stand out, say the funniest or non-standard? And you don't have to mention my interview (meant to be a good joke).
Kamila's instant reply (too quick I thought, it wasn't hard enough, damn it): Nope. Our approach is that everyone's interview is different. Hence, we can't give a specific example of the recruitment chat you're asking about. Each of them is one of a kind as each person is unique and exceptional. It's the very thing that makes this job cool!
Now, I'll get you with this one (I thought, being wrong again): Is there a question you'd ask more frequently than other ones? Do you maybe have a set of core questions up in your sleeve?
Ania: Usually, we tend to be asking about a candidate's motivation and drives both in a project and in a potentially new workplace. Essential things in a modern workplace would also be of our interest. It's what we care about, so we'd focus on eliciting this kind of info at the beginning of the conversation. Naturally, we'd ask about previous work experience, tough work-related situations, and the ability to work as part of a team.
Right, the last one from me (if they answer this one, I'll score nil, I thought with despair): What would be the most challenging question during your own job interview, girls?
Kamila and Ania: Errr, it's hard to say.
Aha! Finally, one for me!
So, where do we stand?
Simple. If you've put enough time and effort into your job interview preparation, you should be fine. So, a quick recap on all the must-dos:
Remember about the basics: know your CV cover to cover and have minimal knowledge of the company you're applying to.
Don't be stressed out. But if you are, the best way to get rid of stress is to accept the fact you did everything you could to be successful at the interview. Luckily, you can forget about stress at your TSG job interview—we won't let it happen.
Think of your recruiters as partners in your future job—I did, and it worked out great (the TSG dream job is mine, mine, mine, Gollum).
Be ready to expect the unexpected. Even though you're now familiar with the type of questions we may ask, it's good practice to think on your feet should a "strange" kind of a problem appear.
The outcome.
And here it is again—the impatiently-awaited email. Click it, read it, and be ready for two options. Whether it's a "yes" or "sorry-but-not-this-time" kind of a message, each option is fine. It really is. Of course, it's great when you smash your recruitment process and get the dream job straight away. But it's also ok if you don't. The reason behind it is quite simple: you shouldn't feel disappointed nor unmotivated in case you're unsuccessful; after all, you've just gained invaluable future career experience. You've learned a bit more and made the next step to reaching your set goal. Failures are bitter. It's common knowledge. What lies somehow obscured, though, is the fact you can't succeed without stumbling between failures. So, by all means, we wish you the most successful job interviews in the future, but also encourage you to draw conclusions when they don't exactly go the way you wanted them to go. It's good to keep in mind that "Only those who dare to fail greatly can ever achieve greatly." – Robert F. Kennedy.
Good luck!
Ten Square Games Team