Did you ever hear about the rule saying that "the last 20% of the game takes 80% of the development process"? According to our Head of Frontend Development Agnieszka, making games isn't the easiest type of development, but definitely the one worth making an effort for.
After graduating with a degree in programming, she wasn't sure what she would like to do for a living, but fortunately, someone showed her Unity Engine. That path led her to work for one of Finland's most recognizable game producers. Agnieszka started working as a programmer, then an academic lecturer (teaching game development), lead programmer, technical manager, and finally head of frontend development at TSG.
What she likes the most about the job is a complex creative process, and as she says in our latest Be A-head of the Game interview, "it is not writing the same piece of code every day." Why does she compare frontend development in gaming to glue? What makes it stick together? What skills does one need to have to become a game developer? And what are the specifics of this industry of constant change?
Watch the interview with Agnieszka and find out yourself.
You can also listen to the podcast version of the show below: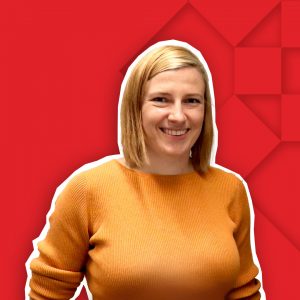 Agnieszka Besz, Head of Frontend Development. A 10-year gaming industry veteran, Agnieszka has worked for Ubisoft Redlynx, Next Games and Rovio. She holds a degree in IT and was also a lecturer at the University of Turku (Finland). At Ten Square Games, she uses her technical skills along with her leadership skills to bring TSG frontend craft to a higher level. On top of that, she overlooks the professional development of our game developers and ensures that there's nothing (technology-wise) standing in the way of creating what we love most — games. She loves sports, particularly horse-riding, karate, fencing, and recently soccer.