Driving eco-awareness isn't always about lecturing, sometimes it's about having fun! That's why we were honored to be invited to the Green Game Jam and applied our team's talents to some eco-educational events!
So, what is the Green Game Jam?
It's the Playing for the Planet Alliance's yearly event, where they challenge the gaming industry to create events that will drive ecological awareness and promote better habits among people in their games. With 8 award categories, there are a lot of bragging rights to be won by game developers, and a lot of eco-knowledge to teach their players.
This year, the theme of the Game Jam is Food, Forests, and Our Future, which gave us a lot of fun ideas. Eventually, we focused on the future aspect. We wanted to show our players a bleak future that awaits us if we keep polluting the natural environment. We started with Fishing Clash.
Angling in the Amazon
After the success of last year's collaboration with Healthy Seas, we knew our players enjoyed our events, but we also knew we had to come up with something new to keep them engaged.
The concept was simple. One of our Fisheries—the Amazon was changed to represent the grim future the river faces if we don't start controlling our pollution of the world. However, we gave our players the option to reverse the damage… and help prevent future damage by planting trees in collaboration with Ecosia. They did so by fishing trash out of fish mouths and conquering the dreaded final boss… THE RAIN BOOT!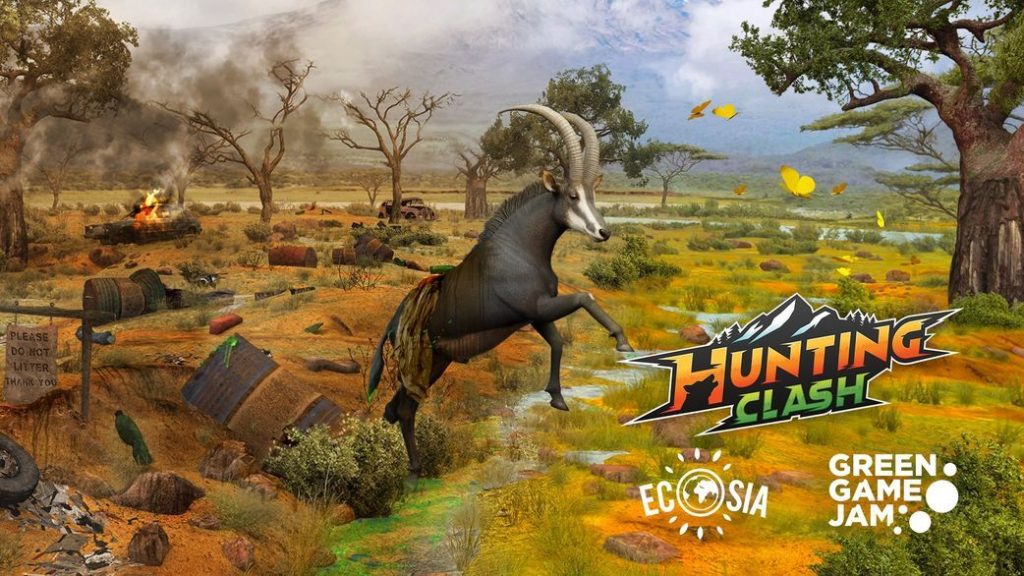 Our players smashed it out of the park. We were projecting that our players would catch 150 million fish during the week-long event in total, 20-30 million over their weekly average. However, our players stepped up to the plate and totally exceeded our expectations, catching a whopping total of 162 million fish! We partnered with Ecosia to turn that score into 30 thousand trees planted in the Amazon Rainforest.
How we tackled the challenge of the Global Game Jam
This week, the Hunting Clash team will add their own spin on the challenge. On June 5th, players will be able to throw down their guns, and do some healing, as a dangerous disease will sweep through Tanzania, and the player will have to hit its inhabitants with antidotes. During and after that short event, players will also be collecting garbage cards, thus cleaning up the littered savannah from its worst-case scenario. Once again, these cleaning efforts will be turned into trees in collaboration with Ecosia.
Vote for TSG!
Now, here's the kicker. If you like our ideas for engaging our players, why not support them? You can vote on our games on the Green Game Jam website through the links below.

We appreciate all the votes and hope that our games have inspired all our players to make small changes to their habits, that way, we can all #GrowTogether.