The war in Ukraine has been an extreme challenge for the entire world. It also left its mark on Ten Square Games, not only through the humanitarian crisis in Poland but also directly affecting many of our employees and business partners. We knew we had to take action to support people affected by the war, starting with our people, with broader steps being taken later over the past month.
– We are extremely proud of Polish gaming companies. Despite being competition on a product level, the crisis has made the industry react immediately, donating money, creating collection points, and helping their employees volunteer for the refugees. All this while making a tough business decision to suspend services in Russia and Belarus – Olga Ostrowska, CSR Manager.
Quick Relocation
Ever since the war started on February 24th, we have been at constant work to help alleviate the humanitarian crisis in Ukraine. We immediately launched a task force led by TSG's CSR Manager Olga Ostrowska with the goal of finding ways in which Team TSG could help the people affected by the war.
"We started by ensuring that all our employees and their families living in areas affected by the war move to safer places, also offering immediate financial support to protect them from the financial ramifications of the conflict." Olga says "in total, we've managed to relocate X people to Poland."
Financial Support
A few days after the start of the war, our board decided to donate 1 million PLN to humanitarian charities and their relief efforts in Ukraine. We chose the Polish Medical Mission and the Polish Center for International Aid, being certain that their efforts will help the civilians of Ukraine in the broadest possible way. The Polish Medical Mission has since helped establish and supply medical centers across Ukraine, while the Polish Center for International Aid ensures supplies for the people of Ukraine, as well as help in relocation and psychological support for victims of the invasion.
#TeamTSG Volunteers
We were moved by the fact that many other gaming companies decided to take similar steps in supporting the people of Ukraine. We're also extremely proud of our team, many of whom have helped refugees in their free time, by either working at reception points, donating to charity, or even sharing their homes with families in need. In order to help and encourage the volunteers, we have decided to give an additional day off for volunteer work, along with monthly financial support for team members housing refugees—1000 PLN for a single refugee, 2000 PLN for a family, for up to 6 months.
We also have to recognize the incredible initiative of our Romanian team. Florian Dinu joined Anaid ONG as a volunteer to transport and triage donated aid, he is an intermediate between SNSPA and transports for temporary housing. Along with other TSG members from Bucharest and their friends together with Asociation Magic they organized 8 cars that took 37 people from the Ukrainian border to Bucharest. He is constantly helping with pretty much everything from flights purchases to vet appointments for Ukrainian families.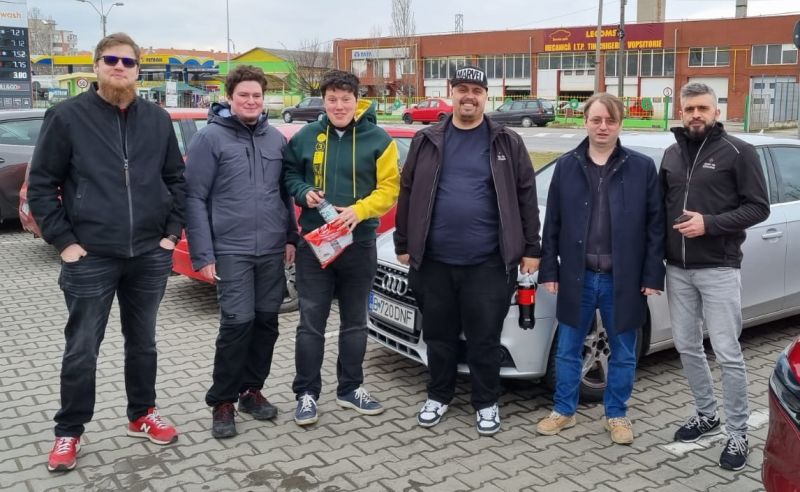 Wojciech Ostrowicz together with friends, he created a simple language guide for people at the borders which was sent to friends in Ukraine and with their help could spread there.
They also organize a 'small' collection of goods that turned out to be able to fill one of the transport trucks that crossed the border and headed to Lviv to supply people.
You can also often meet him and some coworkers from TSG at Wrocław Główny train station. People from Ukraine are coming every day, and they welcome them with as much aid as they might require.

Paulina Kondras organized a charity collection for children accessories via "Stowarzyszenie Żółty Parasol". Thanks to the donations, 28 kids living now in Wrocław received the necessary kits and started classes in public school.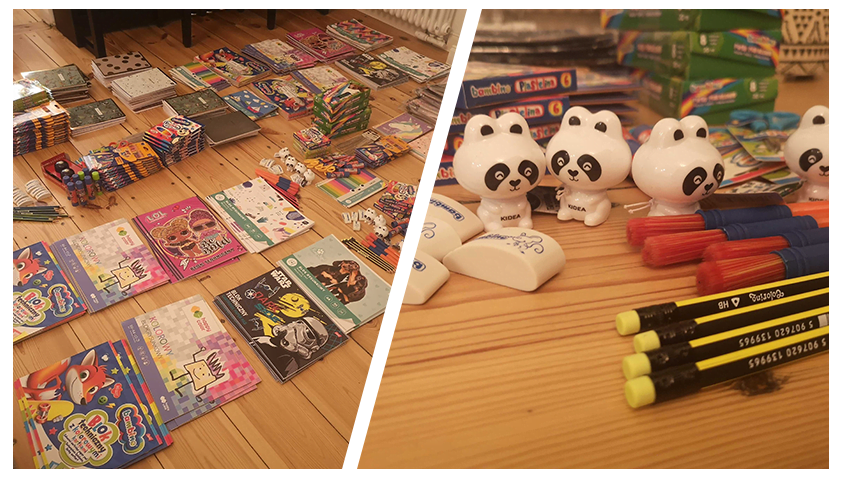 Charity Sale and Women's Day for Ukraine
Our team also stood up to the task on-site. The Employer Branding team sold our gadgets at discounted prices, with all the proceeds going to relief efforts in Ukraine, with our merch being sold for a total of 5500 PLN, all of which went to SOS Wioski Dziecięce.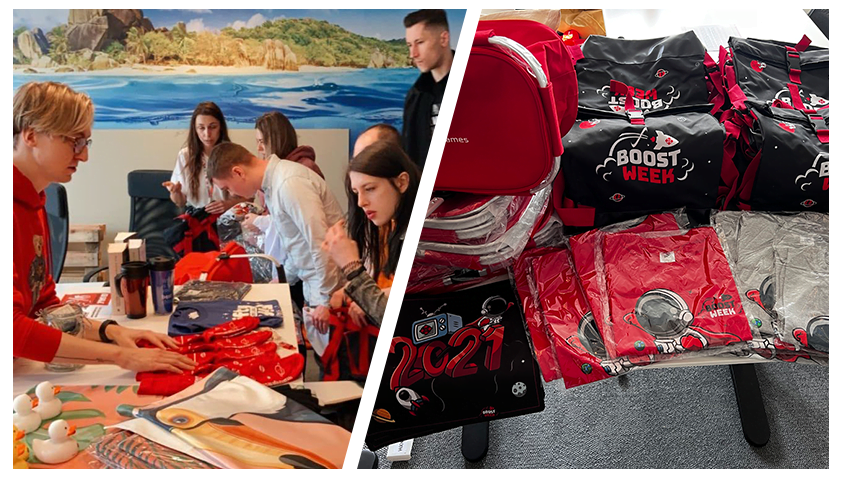 This year's International Women's Day was hardly the happy celebration it usually was. Instead, we marked the occasion by collecting basic women's hygiene products and children's accessories, as these two groups are most frequently displaced by wars. All donations were transferred to Wrocław's Czasoprzestrzeń, who distributed them among refugees in need.
We're not going to stop helping
Sadly, the war in Ukraine isn't over yet, despite many efforts from the world. As of the day of writing, 2.5 million refugees have arrived in Poland, among them, one million children. Many of them attend Polish schools. Our society has been faced with the massive challenge of providing smart, long-term help. Learning the long-term effects of the war and the resulting migration wave as we go, TSG will not stop. We will keep helping, looking for new forms of help, and testing new solutions. All of that with the hope that this conflict, which should've never happened, will be resolved peacefully.