One of our 5 core values is #GrowTogether. It's a value that drives our everyday development and also motivates us to share our knowledge outside TSG during industry conferences, lectures, meetings at schools, or game jams. Our tradition is also to support young talents through our summer internship program.
This year, we had 9 interns joining us between July 1st and September 30th.

"We received a total of 300 applications, which we were very happy to see," Anna Żłobicka, Recruitment Partner, says.

"The choice wasn't easy," Kamila Pietrewicz, Senior Recruitment Specialist, adds. "It's natural that students or recent graduates may not have a CV full of work experience, but what we were looking at was their interest in the industry, activity at university, or engagement in extracurricular activities, like science clubs, game jams, and non-commercial projects. We also looked at hobbies, of course, and gaming was a big advantage," Kamila notes.
"If somebody wants to be an artist, our advice is to build a portfolio, while for technical positions, having an active GitHub account is helpful," Ania tells us.
What does this experience look like for people new to working in a professional environment? What surprised them at TSG, and what did they like the best? What were the biggest challenges? Meet this year's interns.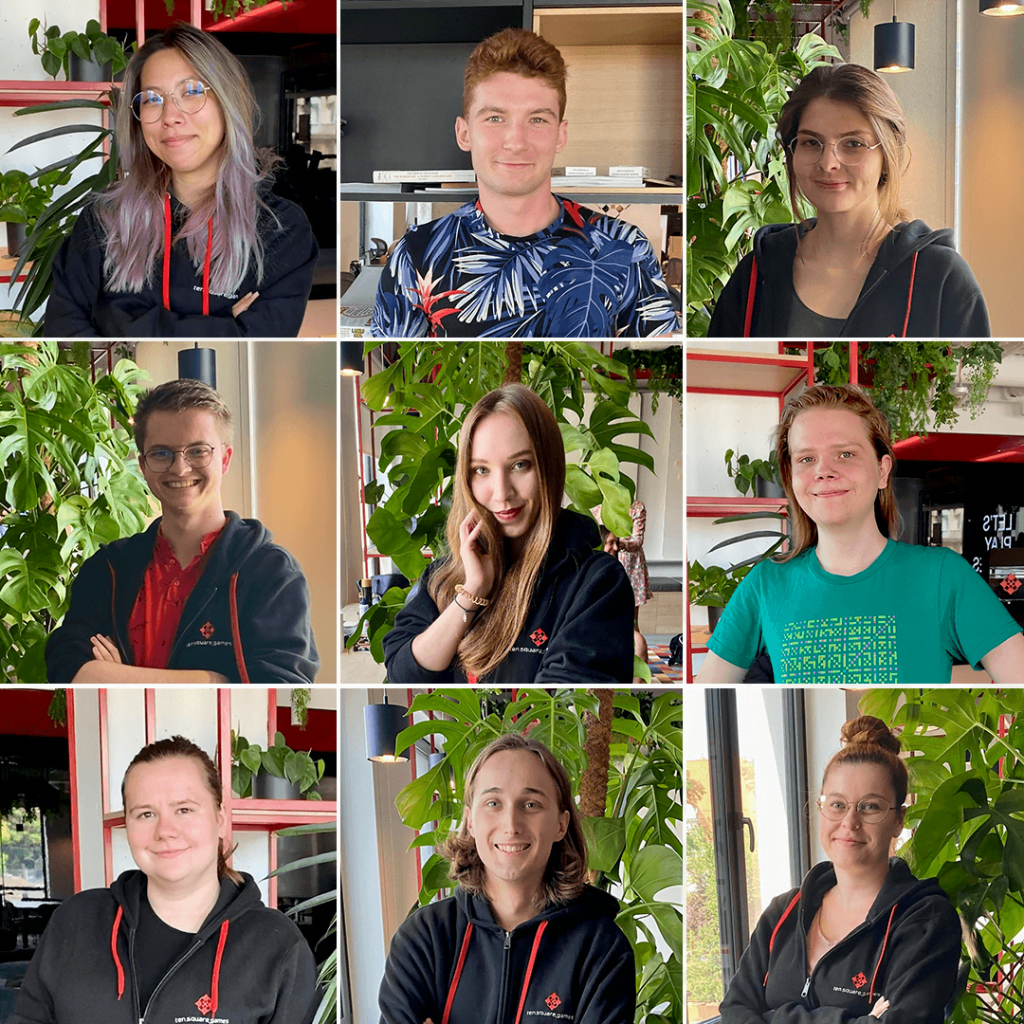 How to become an intern?
The career's office? A recruitment portal? We wanted to reach potential interns in many ways, but it turns out that meetings with our experts were the most effective.

"I found out about Ten Square Games during Zosia, a winter camp for IT students, where TSG had two lectures. I really enjoyed them, so I checked out the website and was further convinced by the company's values. When I found out about the internship in the R&D department, I decided TSG is a place where I can really grow." Jakub Kowalski, an intern in the R&D department IT student at the University of Wrocław, tells us.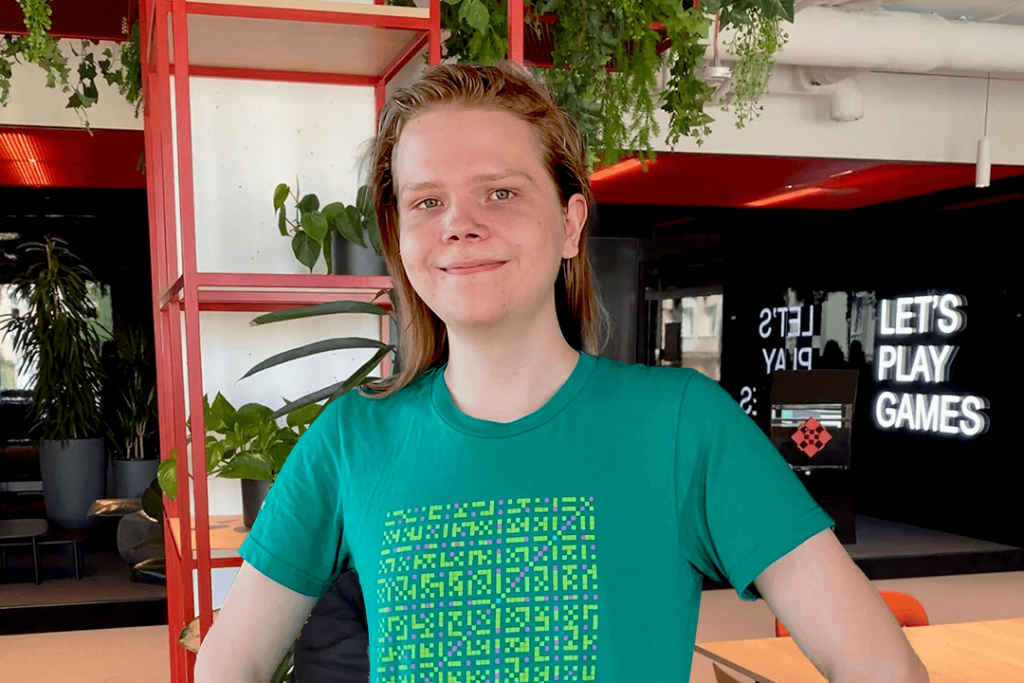 "I was recommended the internship at TSG by a friend who works here and wanted to convince me to give the gaming industry a try," Aleksandra Świerczek, intern in the Hunting Clash Team, graduate of IT at the Wrocław University of Technology tells us.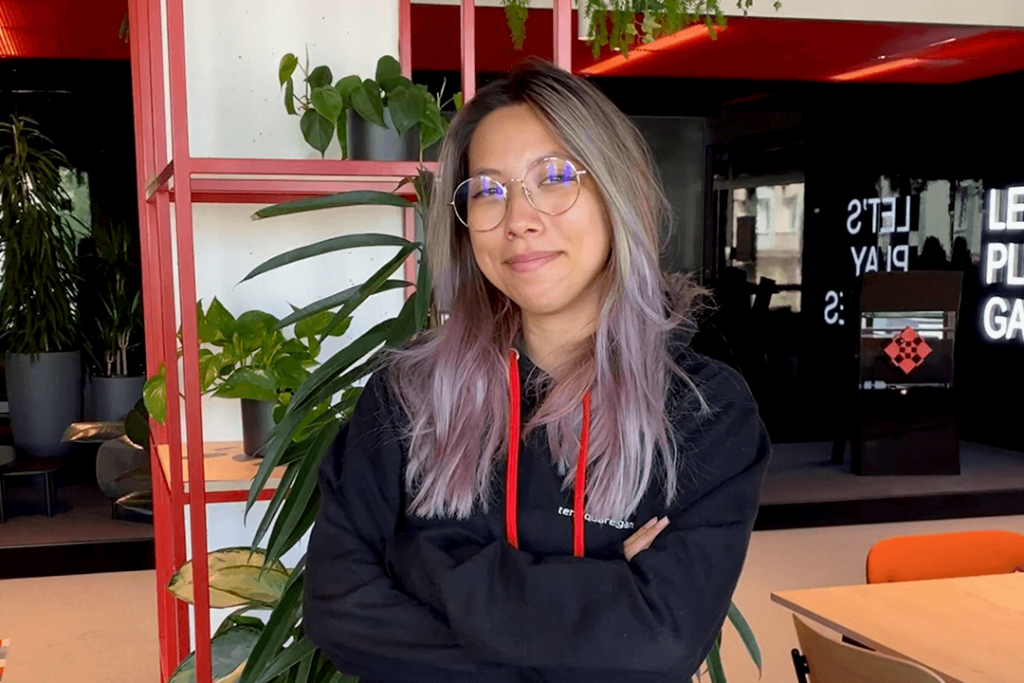 For one of the participants of our internship program, it was an opportunity to move to Wrocław.
"I was interested in the gaming industry before, and I was looking for interesting offers on Skillshot, which is where I found the internship at Ten Square Games. When I saw the products, I immediately liked them and applied. When I found out that the internship was happening in a hybrid model in Wrocław, I didn't hesitate for a second and moved to Wrocław" Krystyna Miącz, intern in the Hunting Clash Team, graduate of Visual Communication in the Industrial Form Department of the Krakow Academy of Fine Arts.
You can always count on your buddy.
The institution of the buddy, a dedicated team member, helping each newly hired person in TSG became one of the most appreciated aspects of work for many. The second most often cited aspect was a pleasant atmosphere and openness to "newbies."
"I had a very warm welcome; Liudmyla, who was my buddy, helped me get into the rhythm of daily tasks and helped me learn 3D Max, which was new to me after working in Maya. The support and variety of tasks help me feel that I'm really growing." Joanna Gałuszka, intern in the Fishing Clash and graduate of Animation and Special Effects for Games and Film at the University of Lower Silesia, says.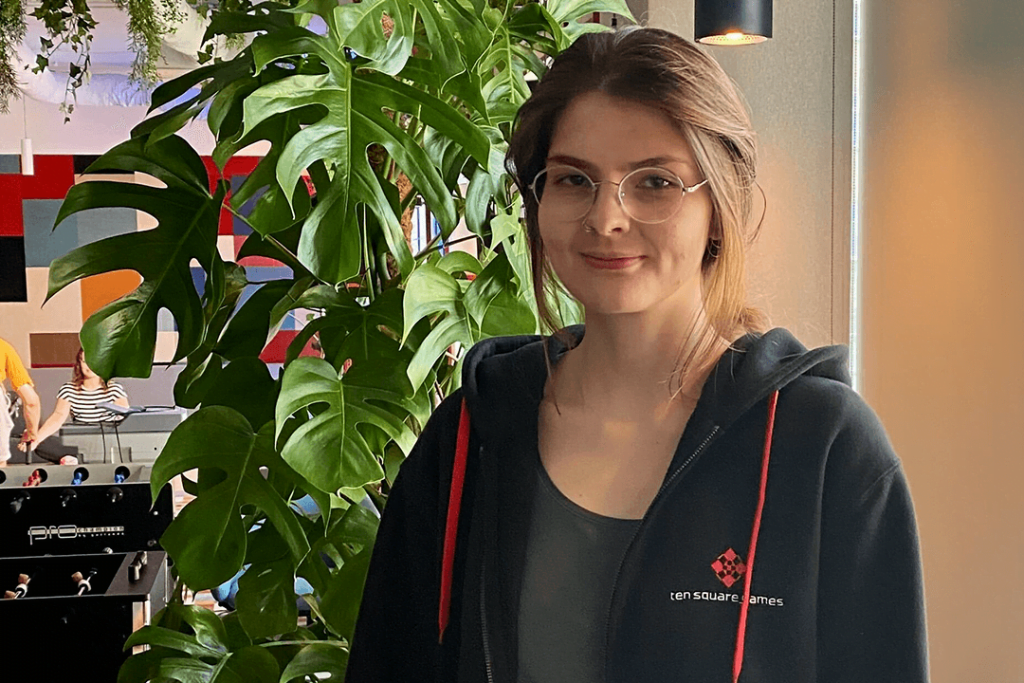 "What do I like the most? The position of buddy is a great idea. My buddy Łukasz taught me a lot; his presence also helped me use TSG's large knowledge base. I really like the fun atmosphere in the company and how our work is organized." Jakub Wirwis, an intern in the Fishing Clash team and IT student at the Wrocław Institute of Technology, tells us.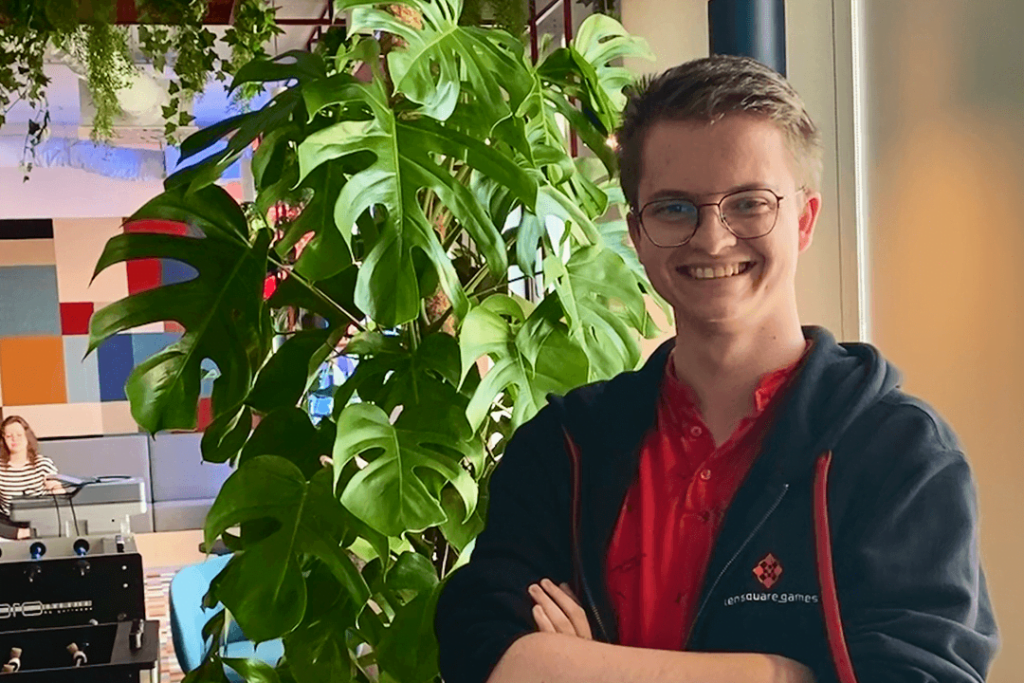 "I work with really talented people who have a lot of experience in their field. The atmosphere is good, making it easy for me to ask questions or discuss challenges." Jakub Kowalski adds.
"What I liked the most was the pleasant atmosphere and the fact that I'm an equal member of the team. Even without being an expert, I can join the discussion, add something, and take away even more." Mateusz Gieroba, Intern in the R&D department, IT student at the University of Wrocław.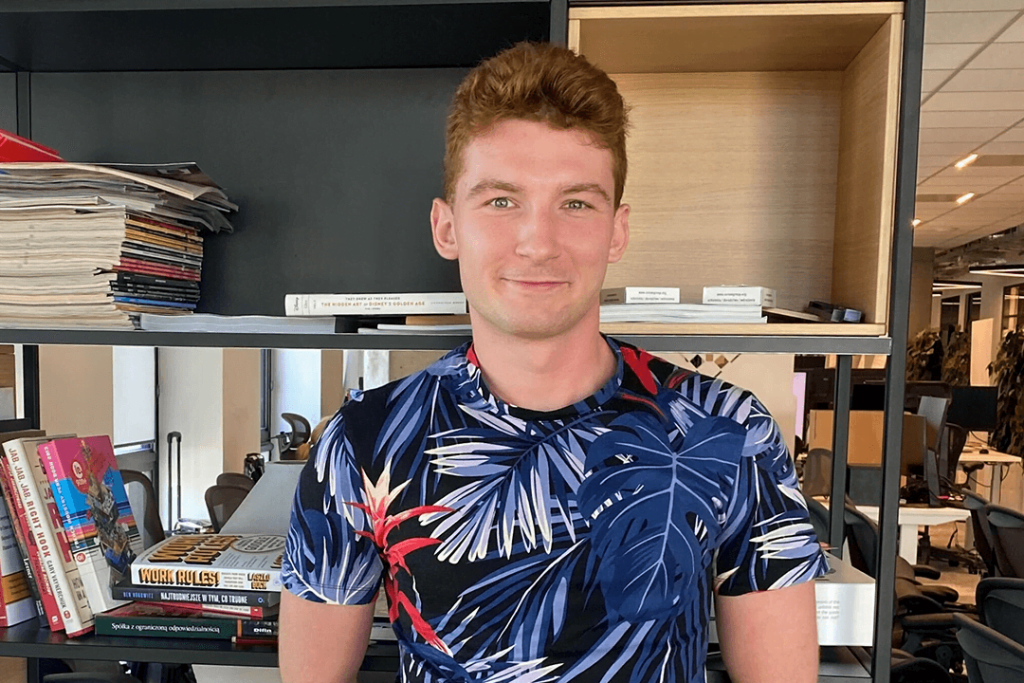 A dive into the deep end
As with every good game, the fun stems from challenges on the way. What challenges did our interns face?
"The biggest challenge? Learning new software, namely 3D Max. Earlier, I worked mainly with ZBrush and Maya, and here I had to learn a new piece of software from scratch. The best part is that thanks to Liuda's help, I see progress every day." Joanna Gałuszka summarizes.
"The biggest challenge? A change in thinking—in games, form follows function, which is why what we create aren't just beautiful images, but something that's going to be functioning in-game, balancing our needs with players' expectations. At TSG, I can learn design from experts, especially my buddy, and also receive feedback that will help me develop my own techniques." Krystyna Miącz explains.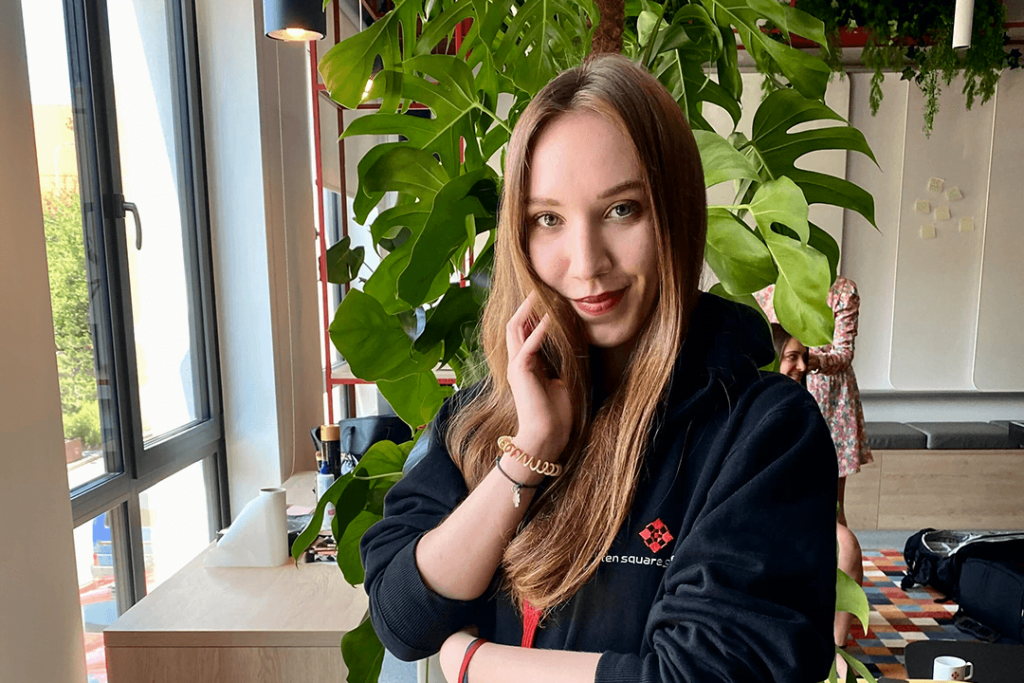 "Challenges? Mostly the specifics of the gaming industry. The fact that you have to have a lot of interdisciplinary skills, and as a Unity developer, I have to have an understanding from backend to builds and distribution," Aleksandra Świerczek summarizes.
Practice makes perfect
Practice making us better and better is a scientific fact, which is why our interns were surprised by the fact that their tasks were immediately put into practice. In games and our other projects, there's an immense value in turning knowledge into action.
"What surprised me the most was that I immediately became a part of the team. On day one, I got a task to create a given asset for a given location, and what I created was immediately used in-game. I liked how quickly we got to business." explains Elżbieta Zabałgo, intern in the Hunting Clash team, a graduate in Mechatronics with a specialization in mechatronic constructions, currently studying Creative Media with a specialization in animation and special effects for film and games at the University of Lower Silesia.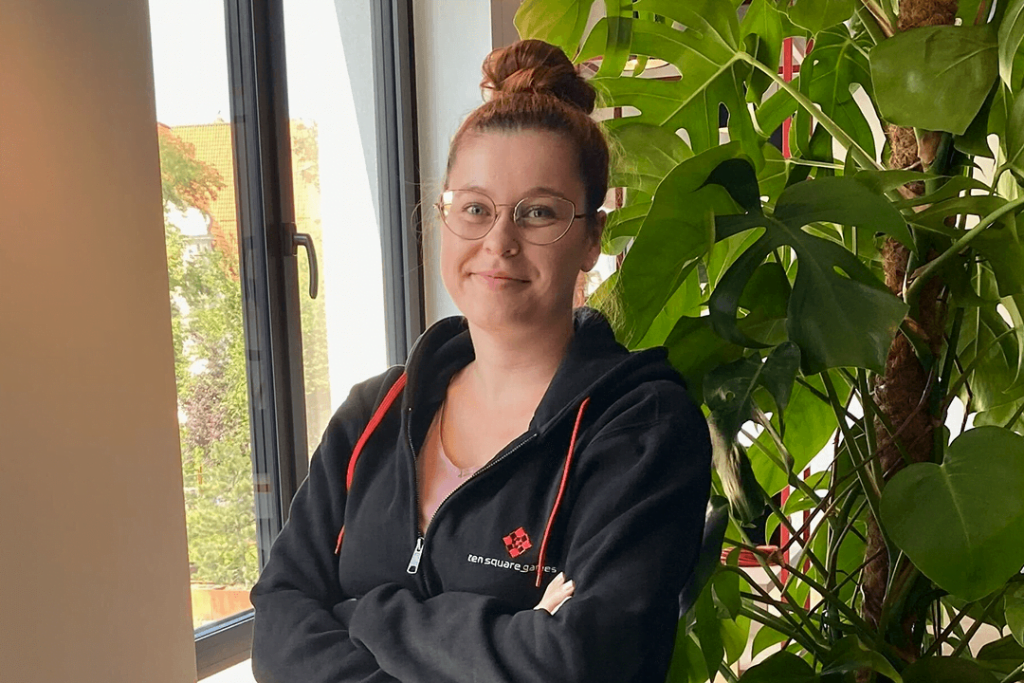 "What I learned is that nobody's limited to their "thing," and it's beautiful. I'm not just testing; I'm also developing my graphical skills, which was a small dream of mine. Learning the project management process in practice, seeing how meetings work, and learning from others is far more valuable than any book or tutorial. I can't wait to tell my science club what I discovered at TSG." adds Zuzanna Wszędybył, an intern in the Hunting Clash team and Game Design student at the University of Lower Silesia.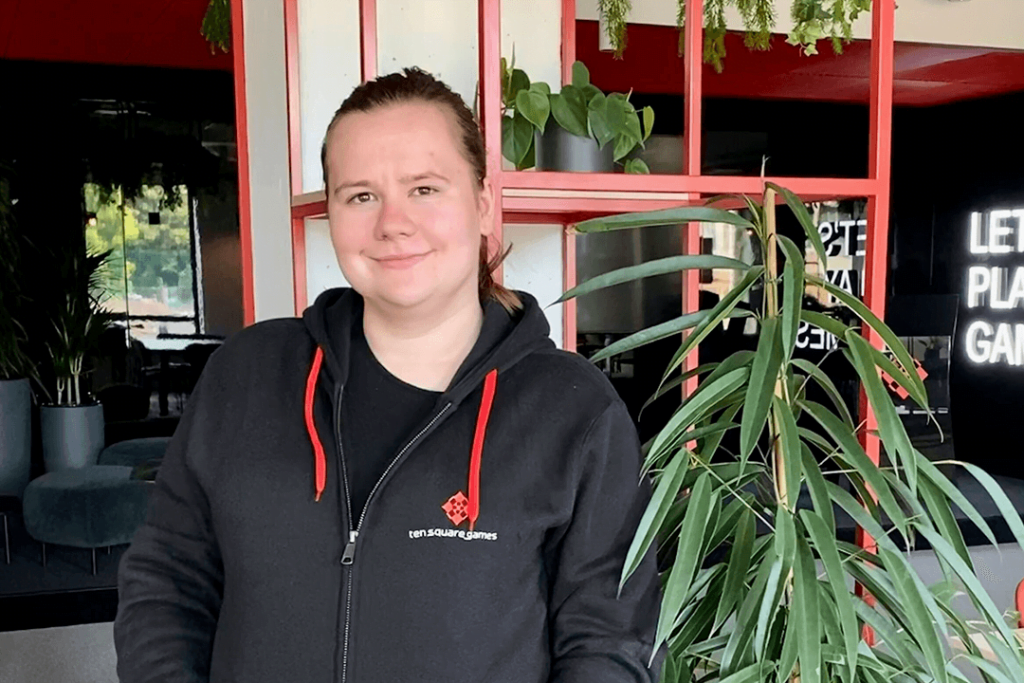 "What do I like most at TSG? Everything! But most of all the fact that the people here are both helpful and chilled out. I also feel that what I'm doing has a point to it, and I have a real impact on games. When I code something, it's implemented. I also love that the company speaks English, making sure that people who don't speak Polish are included." laughs Aleksandra Świerczek, intern in the Hunting Clash team, IT graduate at the Wrocław Institute of Technology, student of IT in Gaming at the Jagiellonian University.
A gateway to a career
"We hope that internships at TSG will help participants open the door when it comes to their career, since even at the recruitment stage, we felt that these are ambitious persons who want to learn new things and want experience in the industry, and perhaps even realize a dream of sorts." Ania Żłobicka says.
"I envy the energy and motivation our interns have," Kamila adds. "As a recruiter, working with people like this and observing their development is an awesome experience." the Senior Recruitment Specialist summarizes.