Hunting Clash is one of our newer products, as it launched in 2020. It is a sports game that followed our previous best-seller, Fishing Clash. Currently, it has over 36 million downloads. The game still has a lot of room to grow, with the team constantly developing new features and content.
"We test everything in production to verify the value for the players, and we aim to deliver new content each month. We introduce and test new solutions quite quickly, and this approach gives the team a lot of opportunities to experiment and get creative," says Jakub Noganowicz, Product Owner.
The Hunting Clash team counts over 70 people working on the game in 6 smaller streams: two Dev squads, a GFX team, LiveOps, Analytics, and a Support team.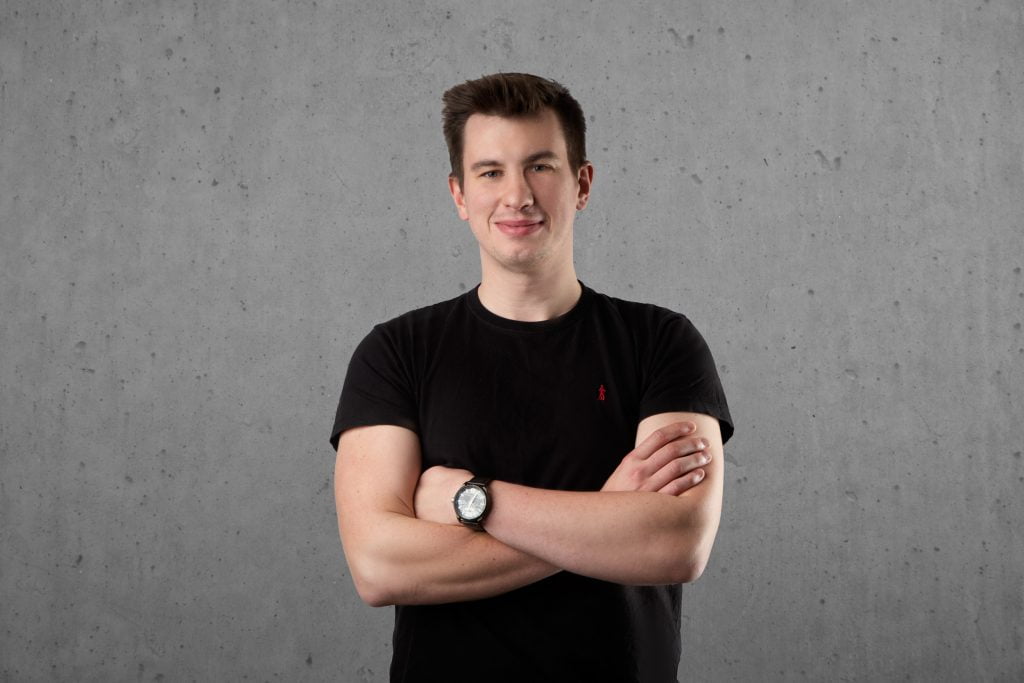 Production
Dev squad is the unit responsible for Hunting Clash's core gameplay. There are three main types of activities covered by them, and those are: developing new features, iterating A/B tests, and technical improvements, including bug fixing.
"The Dev Squad works as one big team, but we are divided into smaller squads to facilitate the work," says Paulina Kondras, Senior Producer. "What's important is that these divisions are not rigid and change depending on the task. What doesn't change is that the work on each new functionality includes a game designer, UI/UX specialist, developer, tester, liveops designer, and of course, producer. We also consider the personal growth of team members when planning squads and assignments. It's important to change focus sometimes so one can have a chance to work either on a feature, technical improvement or production fixes," Paulina adds.
The team counts over 20 people, and they combine together different variations of cooperation. This kind of flexibility is much needed because of the specifics of mobile games.
"We simultaneously work on bigger and smaller features because as we want to improve the game with big updates, we have to keep in mind that our players can't wait that long for new entertainment," Paulina says.
"We often reach for quick wins to improve the game, but we also have to think about our liveops team and their needs because we deliver the feature, but it is them who make it "live" every day" says Miloš Doroški, Senior Game Designer.
"We design architecture that needs to be flexible, so liveops can change things on the go and make our game a bit different for the player every time they enter Hunting Clash," Miloš ads.
Each game improvement that comes from HC's dev squad starts with a game designer and product owner who decide what the team should work on next.
"Sometimes, we discover the need for new solutions, and sometimes, other team members come to us with a problem to solve. It may concern balance, features, or something that our players require, and we usually start with research," adds Chanaka De Silva, Senior Game Designer.
There are three factors that help in making decisions about production, and those are impact on the game, the % of confidence that the feature is needed, and the cost of production (estimation of resources and time).
An important role in the production process is played by UI / UX designers – Paweł Paliński and Paulina Wojtanowicz-Skrzyniecka. They're responsible for creating a user flow in conjunction with the game designers, which allows the team to see what an idea should look like and create designs and prototypes for further development based on that.
The process of introducing each functionality has three phases:
Design, during which a new idea is presented, a feedback session takes place, and the team discuss the new proposition. On this basis, a UI/UX designers create a mockup that allows everyone to see how the new feature would look in the game.
Refinement is a meeting during which individual tasks are allocated so that everyone knows what they have to do to prepare a new feature for development.
Development is basically the process of the coding new feature is coded in the game, testing, and polishing, but also in this phase, the first tests with a selected group of players take place.
The whole process ends with the release, i.e., the release of a new version of the game, with the use of feature flags, which means that we can decide for ourselves when and what feature will go to which pool of players.
"Teamwork is very important to us. On the one hand, the dev squad is responsible for every release, but it's actually always the work of all of Hunting Clash there. An example may be an underwater location – the location itself was prepared by the GFX team, and Liveops prepared events and thematic content while we were responsible for the technical side and dedicated new feature." says Paulina Kondras.
Would you like to learn more about technical improvements provided by dev squad? Read the article from Damian Dudek, Hunting Clash's Lead Backend Developer:
LiveOps
The LiveOps team includes live ops designers, testers, and 2D graphic designers who create live events for HC players.
It's a department that combines creativity with business attitude and the so-called first frontline that has the greatest impact on the game's success. Their job is constantly working on creating events to build long-term player engagement.
"I think we can be compared to a sales department," Mateusz Michalak, Product Manager explains . "Our job is to invent and add new content to the game so that players can find something new in Hunting Clash every day. We design the player's experience and try to make it as good as possible so that players want to return to the game – says Mateusz Michalak."

"When new content is created in the game, our task is to build an engaging journey around it. For example, before making one of our new locations — Peru, available to players, we announced an event in which players collected map pieces leading to the treasure. They could get a gift code for getting it." Dominika, Liveops Designer tells us.
"Sometimes, in collaboration with the graphics team, we also invent new creatures that players can meet in our locations or seasonal ones like a snowman for Christmas or Chinese dragons for the Chinese New Year," Dominika adds.
"We work based on quantitative data, which provides us with business intelligence, and qualitative data from the customer service department. Thanks to them, we know what the players liked and in which direction they were going," Mateusz Michalak says.
The LiveOps team also has a testing division that makes sure that the content released by the team would give the players the most fun.

"We use manual and automated testing to ensure quality, verify the balance of the event, and parse player feedback to ensure that only the highest-quality content is launched. We also provide technical assistance to the entire team." – Agnieszka Ginalska, Junior QA Tester, tells us.
In addition to the LiveOps designers sitting on the verge of LiveOps, product, and business intelligence, a dedicated Economy Designer, Adrian Gersztof helps create the game's core "I am kind of a free electron and, at the same time, a link between business intelligence and designers."
"I mainly deal with analytical and mathematical work, which translates directly into the balance of the game – that is, how much effort the player has to put into the game to unlock the next level" Adrian explains.

GFX
The GFX department is the content department of Hunting Clash. It includes concept artists, level artists, 3D modelers, animators, a technical artist, and a technical designer. Thanks to this creative team, new locations, animals, and weapons are constantly added to the game, as well as many tiny elements that make it eye-catching.

"We are a creative team crafting an entire experience of being somewhere in the world for our virtual hunters," Aneta Duszyńska, Art Manager in Hunting Clash tells us.
The team balances data with creativity in order to create the perfect mix for the player to enjoy.

"Ever since we have started doing surveys, the ideas for new locations come from the players. We recently launched an underwater location, which fulfilled a variety of our players' needs, and the creative needs of our team," Aneta adds.
"Each location starts with a sketch in which I try to capture the atmosphere of a given place in the game," Dawid Fedorczuk, Senior Concept Artist explains.
"As realism is important in our game, research is a prerequisite for each location. – When we know the final shape of the location we want to achieve, I start to refine the sketch by adding more depth and believability. Each and every location is unique to its region, with specific shapes, vegetation, and terrain," Dawid adds.
Based on that concept, 3D graphic designers create the location. This way, the panorama is filled with elements such as trees, stones, and paths.

In addition, they also create weather phenomena and various times of day for the hunting ground, which Hunting Clash players name as some of the more subtle features they enjoy.

"It's very important for us to make our locations as exciting as we possibly can, which is why each location has memorable settings from dramatic winter sunsets to aurora borealis," Dawid explains.

Although it sounds simple, creating such models is very time-consuming, given that it takes an enormous team effort to create.
In the meantime, Mateusz Domański, Hunting Clash's Weapon Artist, creates realistic firearms for the players to wield.

"When modeling, I base the weapons I create on real-life guns, giving them a distinct character suiting our players' preferences. I then select the weapons that suit a certain location given its model, general vibe, and colors," Mateusz explains.

To bring life to the location, animals, and weapons must look similar to their original objects, which is why they need to be carefully sculpted in 3D.
Finally, the level artists put the location together in the in-game engine. The location is then tested and used by the LiveOps team to create a narrative event that will drive the players toward their new hunting ground.

Want to join the Hunting Clash team? Apply now!