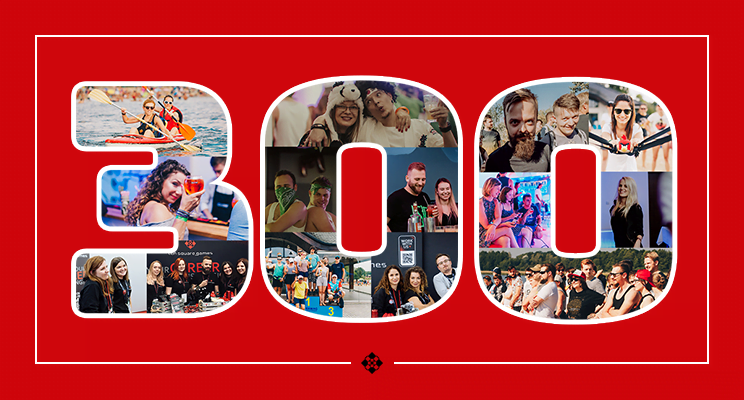 Ten Square Games' story began with two visionaries and an office Ten Square meters in size, and this is where our name comes from.
Ten Square's first game was called Let's Fish, and it's been the starting point of our incredible growth and success. The company has grown organically at a steady pace over the years, but as the saying goes, "Success begets success" and the desire to create even bigger and better games became our guiding principle. Fast forward to today and our subsequent successes have enabled us to grow the company exponentially, now exceeding 300 employees.
Without a doubt, 2020 was a great challenge for us. We were working simultaneously on 8 projects, we opened a new studio in Warsaw to create new titles, at the turn of April and May our flagship game – Fishing Clash, reached almost 10 million monthly active players, a new record for our games!
Expanding this quickly under normal circumstances is difficult, but in 2020 we faced the added difficulty of the global pandemic. Our recruitment process had to switch to accommodating more remote interviews and dealing with candidates who were less willing to change jobs during the pandemic.
On the one hand, the remote mode accelerated recruitment and we were able to quickly get interviews with candidates set-up and candidates working from home were more easily available to talk. This meant we could initially move very quickly. On the other hand, remote recruitment makes it hard to really test a person's culture and personality fit into a team and makes it much harder for the candidates to see the Ten Square Games atmosphere for themselves.
With so much uncertainty in the world, we wanted to be flexible, empathic and reliable so that our candidates felt assured and that we kept their best interests in mind. We even have our company leaders and management board helping with recruitment to dispel any doubts a candidate might have by showing them how our culture works in practice. We go to every length to find and hire great people during the pandemic, once even changing the time, place, and location of a meeting six times overnight. When the meeting finally took place, late in the evening, the candidate was impressed by our hospitality, flexibility and understanding.
At Ten Square Games we have a comprehensive recruitment process that includes specialist tests and assignments. Our recruitment team works closely with our technical experts and team leaders throughout the process. While this means more people are involved in the process, it gives us a much more rounded view of the candidates technical skills, their personal skills and their motivations for joining Ten Square Games. This way we find not only the best skilled candidates, but the best fit candidates.
In 2020, in order to deal with the number of open positions and the huge volume of applicants, we had to get creative with our solutions. One of them was the VOICE OF TSG project, like speed dating for recruiters..Recruiters, technical experts and leaders have short conversations with large groups of candidates so we can get to know them more quickly. We make sure the interviews are at convenient times for the candidates, even if that means we're on calls at 7:00 or finishing them at 21:00. Our teamwork and incredible flexibility allows us to put the candidates' needs first. We are an ambitious company, and to meet our goals we need to recruit from the global talent pool. We now work with a range of international recruitment specialists, and offer competitive relocation package. We also appreciate that during COVID-19 relocation is not easy and we offer short and long term remote co-operation options too.
Another element that we tried to strengthen was the referral program. When our employees refer great candidates it can cut the recruitment time by 50% and brings in candidates who perfectly match our culture. If we are unable to find candidates after a while, we increase the referral bonus for our employees and by doing so we have been able to highlight our most crucial roles and fill another 34 open positions.
Since the beginning of 2020 we've had thousands of applications and have reviewed nearly 7,000 CV's, spent 1,200 hours interviewing candidates and including our intern positions we have brought almost 150 people into Ten Square Games this year. Now, with 300 highly skilled experts we are like the legendary Spartans, able to take on impossible challenges and succeed because we are united in our motivation – our shared passion for making great games!