Is everyone working in the gamedev industry a professional game maker? Of course not, but we invited everyone in Ten Square Games to try their chances. This year, for the first time, we organized an internal event – Boost Week. It was a conference lasting five days, crowned with the company Game Jam over the weekend. During the workdays, we offered everyone 15 hours of lectures on how to create games, and then there was a perfect occasion to turn theory into practice by actually making hobby apps. It was an intellectual challenge, a friendly competition, sometimes a wild dev run, but most of all it was teamwork fun!
We aimed to organize an event that would boost our team's knowledge, would be fun for people, while reflecting the gaming nature of the company and offering our people challenges that would enhance their engagement. The trick was to make it attractive to both our techies and the administrative staff – explained Mirka Bartmańska, Employer Branding Manager.
The idea of having an internal event with a game jam as a cherry on the top was born back in November 2020 as a part of our Employer Branding project for team integration. This year, to coincide with the company's 10th anniversary, we thought we would reflect our value of "growing together" in a more complex form. We also wanted to have one big event to unite the entire team and, at the same time, connect it to what we all love – games! This is how Boost Week was born.
Bringing gaming senseis in
Coordinating a program of multiple offline and online events is not a piece of cake by any means. Luckily for us, Ten Square Games has plenty of gaming enthusiasts and even more game-jam veterans, such as Paweł Szpiczakowski and Karolina Stryjek, responsible for Sensei Game Jam and Fifty-Fifty Game Jam. Thanks to them, we weren't starting from scratch, but could take advantage of their rich expertise.
The experience of Sensei Game Jam and Fifty-fifty Game Jam gave us significant leverage when organizing Boost Week. Still, this event was the largest and the most complex one I have ever helped with. In addition, it was the biggest knowledge-sharing feast organized at TSG! It was a pretty demanding project because of the fully remote conference part, plus the combination of a virtual and an in-house game jam. I'm glad that 2/3 of our colleagues took part in all the activities. Boost Week turned out to be an excellent opportunity to meet new people and see their commitment, while also preparing for lectures and making games! It was definitely worth pulling an all-nighter to get everything ready – said Karolina Stryjek, Business Development Associate.
Gamifying gaming
We knew that online events wouldn't be as engaging as offline ones, so we aimed to give our people some extra motivation to join the conference. This is how Paweł Szpiczakowski came up with the idea of gamifying the entire event.
We introduced a special currency – Boost Coins – which rewarded every activity of the attendees. Joining lectures, solving quizzes, participating in game tournaments, creating fan-art, social media mentions, and many others all resulted in coins. And it was really worth the effort, because TSG offered some very generous prizes, including PlayStation 5, Xbox Series S, Nintendo Switch, iPhone 12, Apple Watch, Bose headphones, Kindle Paperwhite 4, gaming accessories – dedicated chair, mouse and keyboard, and a wide choice of vouchers and company gadgets.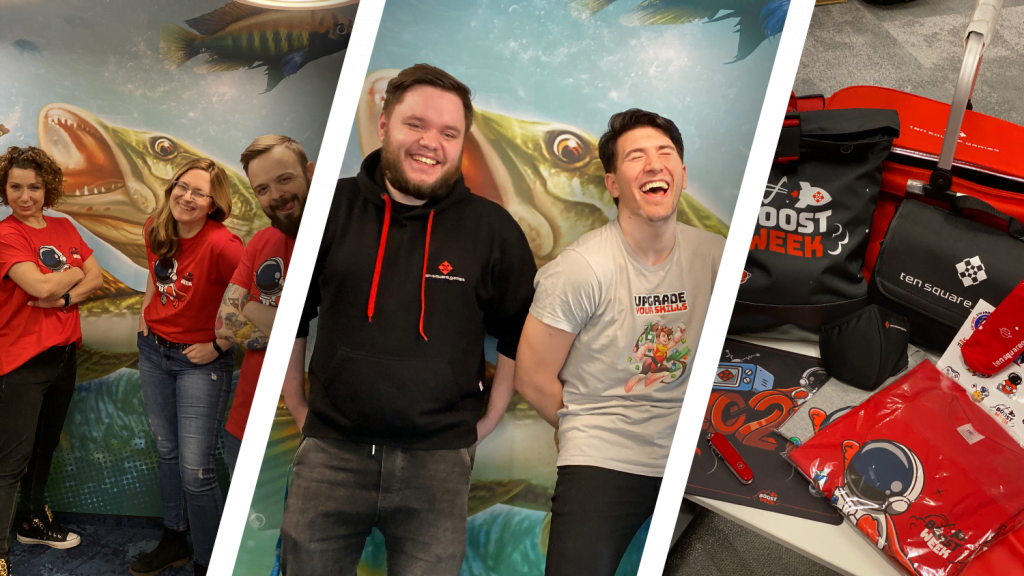 Based on my experience, I thought it would be great to do something special. Something that not only duplicates the paths we have already walked down, but something that will become our own way of involving as many people as possible. I hit on the idea of gamification to encourage those people who might otherwise hesitate to join the event. Fixed action rewards, Easter Eggs, Social Treasures and Prize Pacing – with those four different contextual types of rewards, we really managed to get TSG people involved. I am happy to work in a company that offers such great and fun knowledge-sharing opportunities. When a crazy idea was born in my head, I was trusted and given the freedom to turn it into reality – said Paweł Szpiczakowski, Developer Advocate & Unity Talent Mentor.
Boost (week) of knowledge
As the majority of the TSG team works remotely, we decided to hold our Boost Week conference on Discord. For the whole week of April 19-23, each afternoon our employees could participate in 15 lectures, split into three paths: General, Specialist, and Case Study. The first two were dedicated to game creation and game-jam pro tips, such as pitching, finding assets, implementing multiplayer mode and mechanics. All the presentations were recorded, so everyone could watch them on their own. Participation in the streaming was rewarded and the attendees were able to ask questions to keynote speakers. This part seemed to be favored by the newbies, who seized the chance of gathering as much knowledge as possible in a short time before the game jam.
During the Case Study track, our most senior experts explained the ins and outs of their domains. There really is no better way to learn how real players in the gamedev field do it!
48 hours together
Equipped with useful tips and inspired by freshly discovered solutions, almost 100 colleagues joined the TSG game jam. As soon as the last lecture was over, 18 gaming troops began working on their "Small universe" – chosen as the jam theme. We divided all the participants into mixed teams, so that more experienced people could support those who were less trained. At the same time, it meant that co-workers who had never worked together before got to know each other.
The charm of traditional game jams is that people meet in person and spend 48 hours together creating a fun project. We knew that we wouldn't be able to gather everyone in the office, so we decided to go with a hybrid model.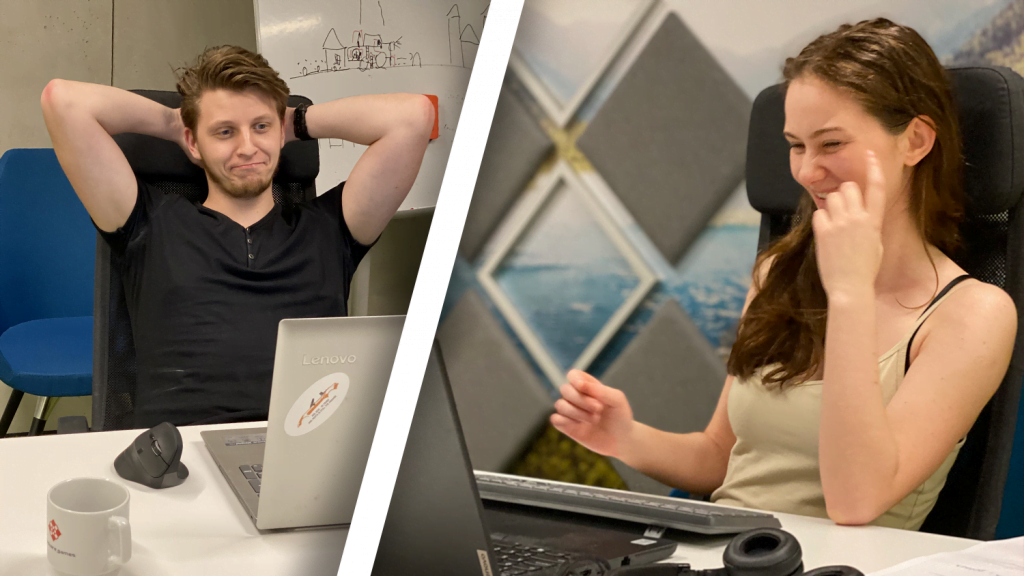 The conference part was online, but the game jam had many offline elements. Such a hybrid combination was our debut and it involved providing attendees with a digital workspace and bringing them a great face-to-face experience. To make visiting the office safe, we introduced a number of COVID-19 precautions, e.g. tests and separate rooms for each team – revealed Mirka Bartmańska, Employer Branding Manager.
Groups that chose the remote collaboration received game-jam packs full of handy gifts, e.g. online catering vouchers.
96 + 48 = 18
Two days of intense work, hundreds of slices of pizza, and one unexpected power-outage brought us to the most exciting (and stressful) moment on Sunday, April 23 – the final showcase of 18 products.
The most amazing fact was that each team actually delivered a playable version of their app in the "Small universe" game-jam theme. Some were genuinely funny, e.g. a presentation of the daily reality of a stereotypical Polish guy, Janus. Others set their world at home. We got to see the home-office universe from a child's perspective. One team brought the very original realm of a goblin living in a little tractor to life. Another developed a pretty dangerous universe of Kitchen Clash, based on the original ambiance of our office. Jammers produced a racing game, an old school game inspired by arcade machines, and of course, projects taking place in space and among distant planets.
Worms were the champions
After long and heated debates, the game jammers picked "God of Worm" as the winner. This is an AR game, where the player has to rescue tiny bugs from a giant frog.
The best thing about a game jam is that you can actually make your project just the way you want it. You don't have to focus on business goals or players' needs, but can create a niche product that may delight only a few people, but brings you satisfaction and joy – stated Konrad Słabig from the winning team.
Another special aspect of the TSG game jam was the gamification. It encouraged giving feedback to other teams, which happens too rarely. Among 30 similar events that I had joined in the past, the TSG game jam was the first one where participants could exchange feedback on their projects – added Konrad.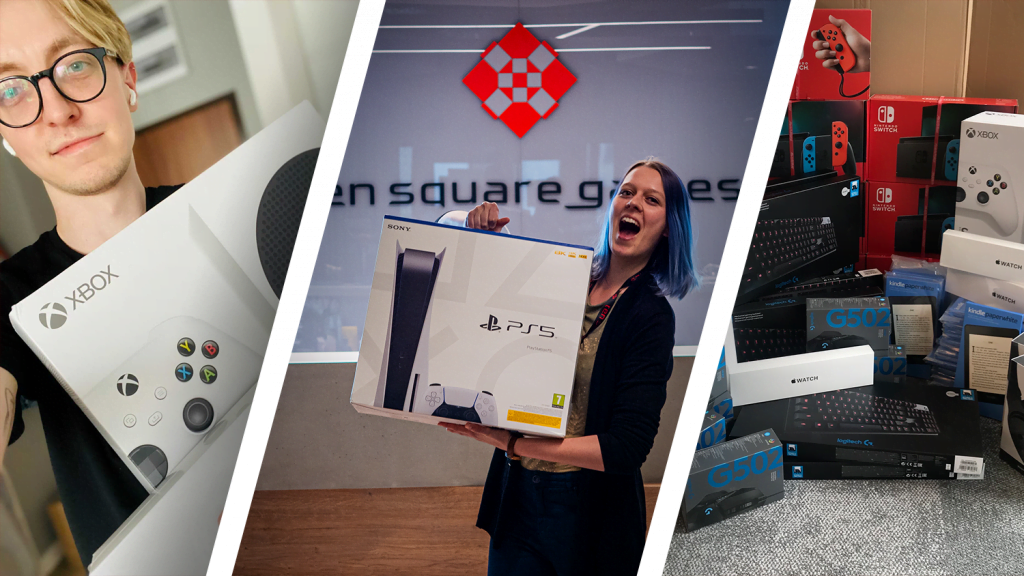 The second place belonged to Little bug universe – the only board game created during the event. It was ingenious, with the team making it totally playable by putting it on the online Miro board. The third spot on the podium was taken by the team who created Keyboardkind, a game where players had to take care of little creatures living inside a  keyboard. 
Fun makes it better
All the games were terrific, and we were blown away by our people's creativity and talent. Although it was pretty clear that the game jammers play to win, we witnessed a synergy effect of feedback collaboration and friendly communication between the competing groups.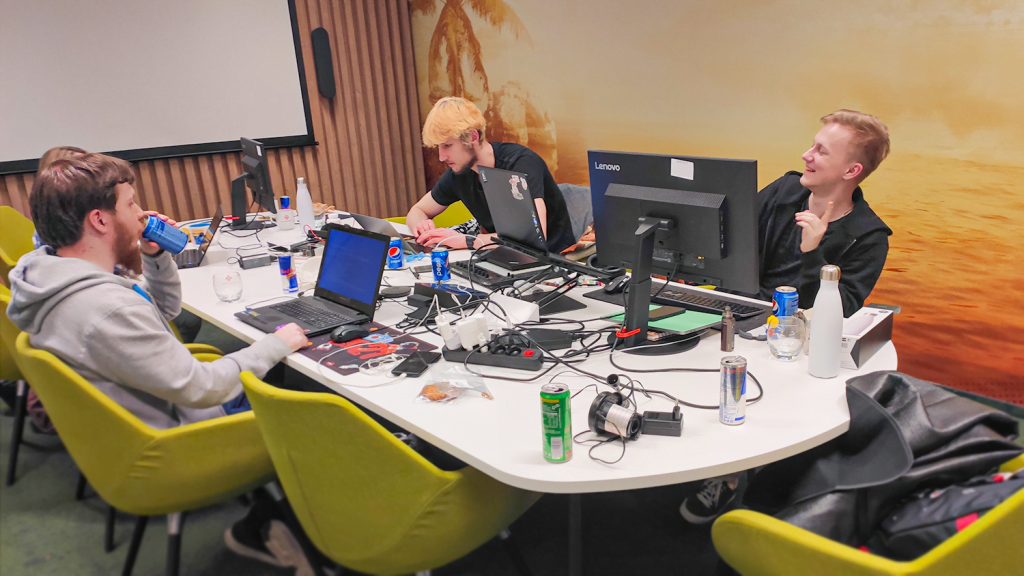 I learnt a lot of interesting things about creating games; I made new friends and simply had fun. It was a great occasion to talk to colleagues who I don't have a chance to cooperate with daily. I am pleased that TSG takes the initiative to organize festive events where we as employees can win superb rewards, not only by making a top-3 game, but also by taking part in various side activities. This makes me feel that the company cares about our development and satisfaction – said Bartek Piątkiewicz, Translation & Localization Specialist.
I learned a great deal from brand designers to artists and UI, and I was delighted to meet new people! I usually work with ladies, but during the game-jam weekend I was the only female on our team. It was an interesting experience to share knowledge with other open-minded professionals and creatives, for it allowed us to start any discussion quickly and test new solutions even faster. Everyone wanted to win PlayStation 5! – said Rita Suchomlynowa, Graphic Designer.
Key takeaways
Gamification enhances attendees' engagement. Everyone who participates should be able to collect points and convert them into attractive rewards. It brings people so much fun! Especially when you notice that employees are passing the currency between themselves in order to help one of them get the reward he's been dreaming of. Heartwarming!
Diverse activities allow people to express their diverse talents. Some of our teammates turned out to be great speakers, others showed graphic art skills, and we even encountered the type of flexibility that allowed an administrative worker to turn into a professional sound artist.
Communication is king. From the technical setup, through online and offline channels, to gathering feedback, we learned important lessons that will allow us to improve and upgrade the next edition of Boost Week, which we very much hope will become an annual celebration.