The best adventures usually have a twist, and Grzegorz Gieczyk's road to becoming our Head of Game Services has been full of them.
But no spoilers – he reveals this story in the second episode of our Be A-Head of the Game series. In an interview with Artur Florkowski, Grzegorz shares his story about growing into the role of a leader, and all the lessons learned along the way.
How did the history of TSG become the story of Grzegorz? What corporate values does he consider to be the most important in his role, and what is the most difficult obstacle he's had to overcome on his path to leadership?
Watch the video and see for yourself!
You can also listen to the podcast version of the show below: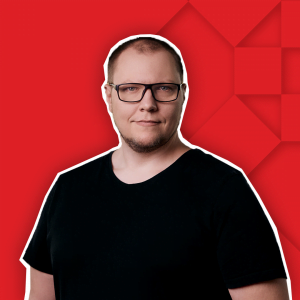 Grzegorz Gierczyk, TSG's Head of Game Services, has been with Ten Square Games for more than 8 years. He initially joined TSG as a tester but soon became the company's first support employee. In his career, he helped gamers, created tutorials and video tutorials, and developed the company's social media channels. However, his greatest achievement is building our customer service department, which he calls "the ear" of Ten Square Games.He oversees the work of several teams (counting almost 50 people now) responsible for customer support, VIP support, localization, products, social media, and outsourcing.