Mental health challenges have been on the rise ever since the pandemic started and are now being compounded by the war in Ukraine and the cost-of-living crisis. As a company, we're committed to ensuring that our employees have access to mental health care. Last year, we started co-financing our employees' psychological support. However, we still found a need for various initiatives centered around mental health. That's how the Mind Gym came to be.
What's the Mind Gym?
Luckily, it has nothing to do with mental gymnastics! The Mind Gym was thought up as a series of workshops and lectures aimed at teaching our team strategies and tools needed for the mental health challenges lying ahead of us in these trying times.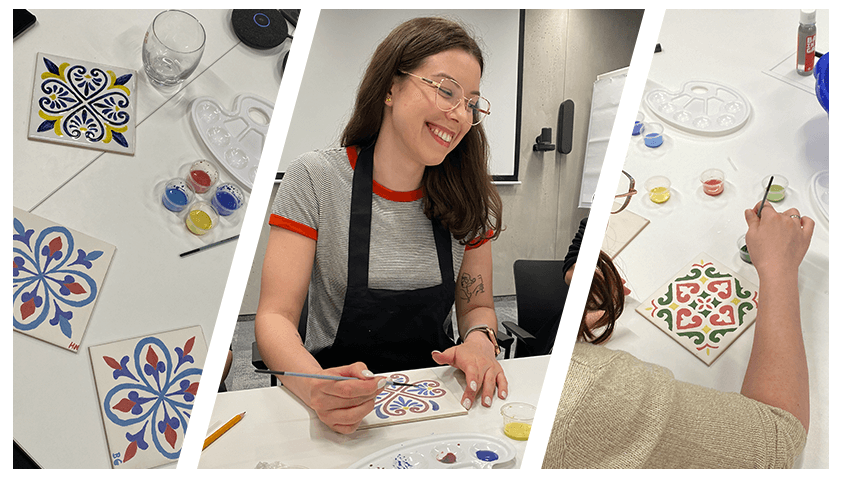 The name itself isn't just a catchy title, either. We believe that tackling mental health issues should be destigmatized, and going to therapy, workshops, and lectures should be treated as a healthy routine… just like going to the gym. Through our series, we wanted to provide our team with accessible, interesting, and professional mental health exercises that would help them down the line.
Releasing your inner artist

A big part of the Mind Gyms were workshops based around art therapy. These workshops included various handyworks from ceramics to creating Kokedama soil balls. #TeamTSG members participated in 8 Art Therapy workshops hosted by art therapy expert Aldona Dymczyk from Stara Piekarnia.
"Thanks to the Mind Gym, I got back into having fun with art. I liked the ceramics lessons the best, first modeling and then enameling dishes. I also tried things that were new to me like Kokedama, aka the "hanging gardens." I enjoyed the afternoons during which I could get my hands dirty and relax after a hard day." – Paulina Wojtanowicz-Skrzyniecka, UI/UX Designer.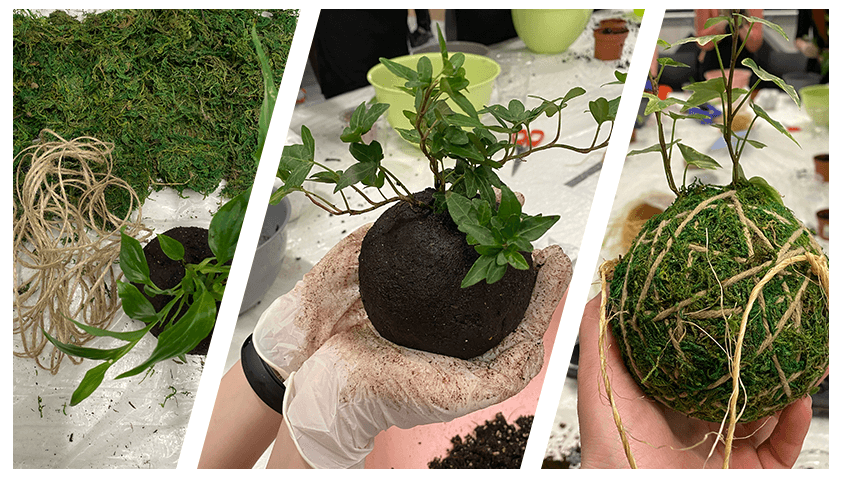 "As a person who enjoys handmade things, as soon as the opportunity came up to attend a workshop where you can create something cool, I signed up right away. I love trying new artistic challenges, and the opportunity to make a jug or mug out of clay is something I've never tried. A big plus was that the creation was under the supervision of the instructor, who helped and gave tips on how to choose the shapes and use appropriate tools (of which I had no idea before) to create. The meetings were very calming and gave me the opportunity to express myself artistically, but this time in clay. I sincerely hope that I will have the opportunity to participate in similar classes again." – Monika Trojanowska, QA Tester.
"For me, the whole project was a great initiative that gave me some space for taking my mind off everyday office life. It was also an amazing opportunity to talk to people from other departments and, with that, make new friends. And let's be honest. Never have I ever had my own cup that I made myself! How cool is that? Needless to say, the Mind Gym is something I would love to see come back again." – Wojciech Ostrowicz, Translation & Localization Specialist.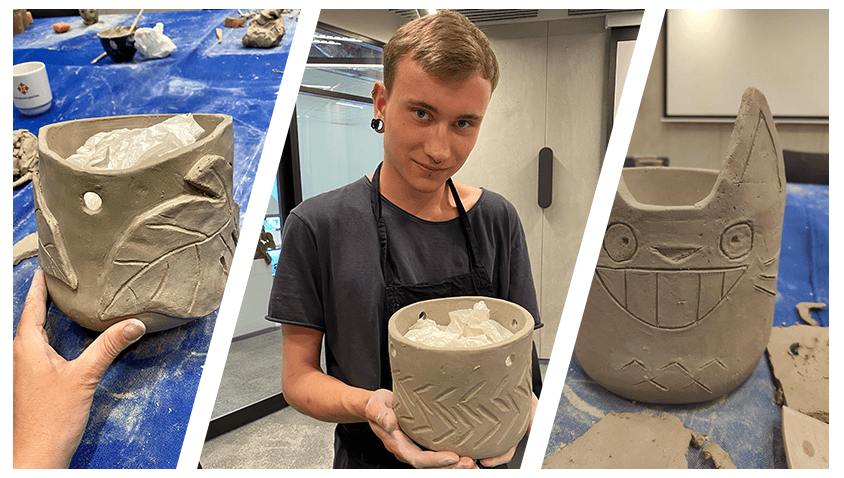 Ways to find a balance
Other than art therapy, the Mind Gym featured something a bit more similar to a typical gym. Our "Tender Body" and Mindfulness exercises helped our team get in contact with their bodies through exercise and meditation.
We also wanted the Mind Gym to destigmatize mental health crises among our team and leadership. To that end, we also hosted Elżbieta Jakubiec, a social activist and influencer raising awareness about Bipolar Disorder.

Finally, team leaders and the HR team took part in workshops focused on supporting team members in mental health crises in order to ensure support for our employees whenever they're faced with trying times.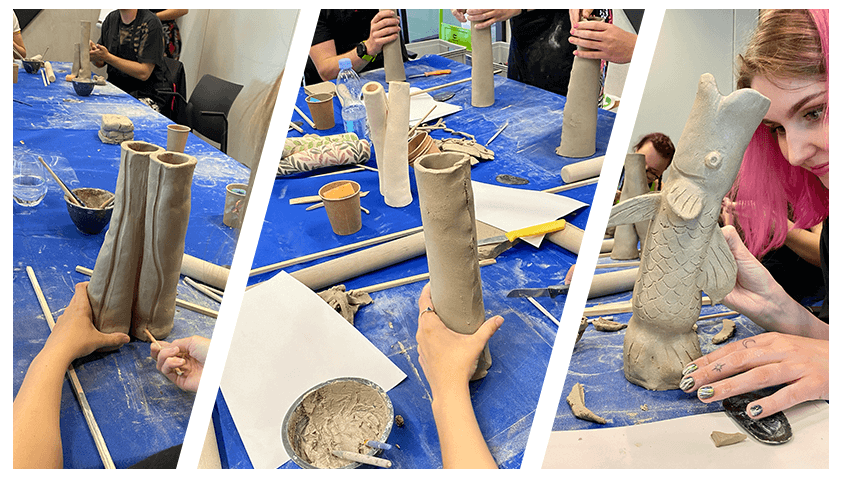 "The Mind Gym initiative was a truly amazing experience, and I'm just proud that TSG came up with it, I'm already looking forward to the next chapters! I think that the global lockdown made many people realize how important it is to take care of one's mental health, both in the workplace and outside of it. Finding a healthy work-life balance has always been a challenge, but it's becoming even more so, when we're constantly connected and seemingly available to perform. Allowing employees to just leave their work at the desks, to talk with people from all around the company and participate in activities (which for many of us were novelties!) was just something excellent. Psychological studies confirm the benefits of face-to-face contact and how relationships in general positively affect the chemistry of our brains, so having an opportunity to meet new people or colleagues who sometimes we've just known only online was just a bullseye in that context. The additional benefit of crafting something beautiful was just a cherry on top. I mean, we're all drawn to handmade items, but owning something made with your own two hands, with all the imperfections that come with that, all the memories connected to these specific works of art and the people we've made them with, could you imagine a more precious handicraft? Personally, I do feel that my mind has expanded during these TSG Mind Gyms, but none of it left any muscle sores, which you can't really say about going to your regular gym for a workout!" – Jarek Charczuk, Support Specialist.
The road forward
With studies showing that between one in five and one in four people in the world being affected by mental and neurological disorders in their lifetimes, destigmatizing and offering support to the people suffering from them is a big part of our commitment to create a friendly and safe workplace.
"I really loved the Mind Gym. Other than the obvious advantages, it was a great opportunity to team-build and get to know each other" – Zuzanna Widz, Translation & Localization Specialist.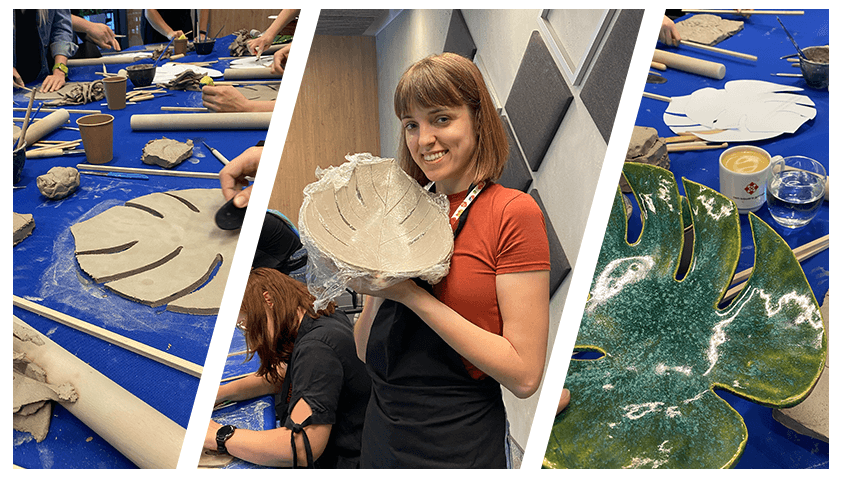 The Mind Gym was a part of our bigger efforts toward supporting our team's mental health. As previously mentioned, one of our benefits is refunding our employees' therapy costs. We are also working towards introducing more workshops related to mental health, as well as neurodivergence in the workplace, in order to help all of Team TSG #GrowTogether.