Airline Commander is a flight simulator produced by Rortos. The reins of the game's production were taken by TSG back in 2021 when the company acquired the Italian studio. The team now has the unique opportunity to combine its excellent engine and gameplay with TSG's strength in the Liveops area, as well as experience in building evergreen products with the support of our experienced BI, Growth, R&D and Tools teams.
In this project, we unite the biggest strengths of both studios to make Airline Commander even better than it already is – Michał Kopeć, AC's Product Owner states.
A game for aviation enthusiasts and real- life pilots
– We work autonomously on developing Airline Commander, but as Rortos is part of the TSG family, we can always reach out for knowledge and advice – says Michał.
The game was released over four years ago, and it was already downloaded by 50 million users. Around 170 thousand players launch the game daily, which is primarily organic traffic.
What do players love the most about Airline Commander? Many of them are aviation enthusiasts, and they really enjoy realistic flying simulation, gyro control, and hyperrealistic graphics. When surveyed, 12% of the responding players declared that they are real-life pilots.
The gameplay differs significantly from TSG flagship titles, and in this team, everyone has to learn a bit about physics and how vehicles move.
The biggest challenge the team is facing? "Transforming Liveops to make the game more "live" by delivering new content regularly, adding new game modes, new machines for players to collect, and allowing them to manage their own airline."
Why is this project cool?
– Airline Commander is a project with great potential and a great challenge for TSG – we aim to pave a new path. There are no ready-made solutions – Michał states. – We do not copy the competition, so this is a really great place for everyone creative and happy about discovering something new.
The team works in weekly sprints in two streams, and one of them is the so-called Fast&Furious stream, as they aim to quickly upload new small features to production.
How does it look in daily work?
– We test a lot in short periods. Whenever something doesn't bring the expected outcome, we quickly decide whether we will continue or not – says Michał.
However, decisions are not made based on intuition – the team has an analyst who keeps them data-informed. The team does a lot o A/B tests and makes the best decisions based on them.
A Team
In this project, you will work with an international team of over 20 game development experts with a high seniority level, so professional growth is guaranteed here.
The core gameplay of Airline Commander is based on a realistic simulation of flying and landing planes, so in the art style of the game, it is important to create the most authentic feeling of being in the plane. Airline Commander's Art style is very realistic, and its art team takes care to give players the feeling of being on the plane.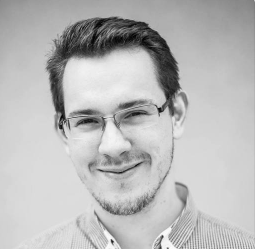 Michał Kopeć, AC's Product Owner, started his adventure at TSG in 2015 when he joined our Free to Play Academy. His gaming industry experience was minimal back then, but now he leads one of our most promising projects, thanks to his great passion and analytical skills. Michał is a big fan of board games and loves to invent new mechanics.
Meet Michał and the Team, simply Apply.