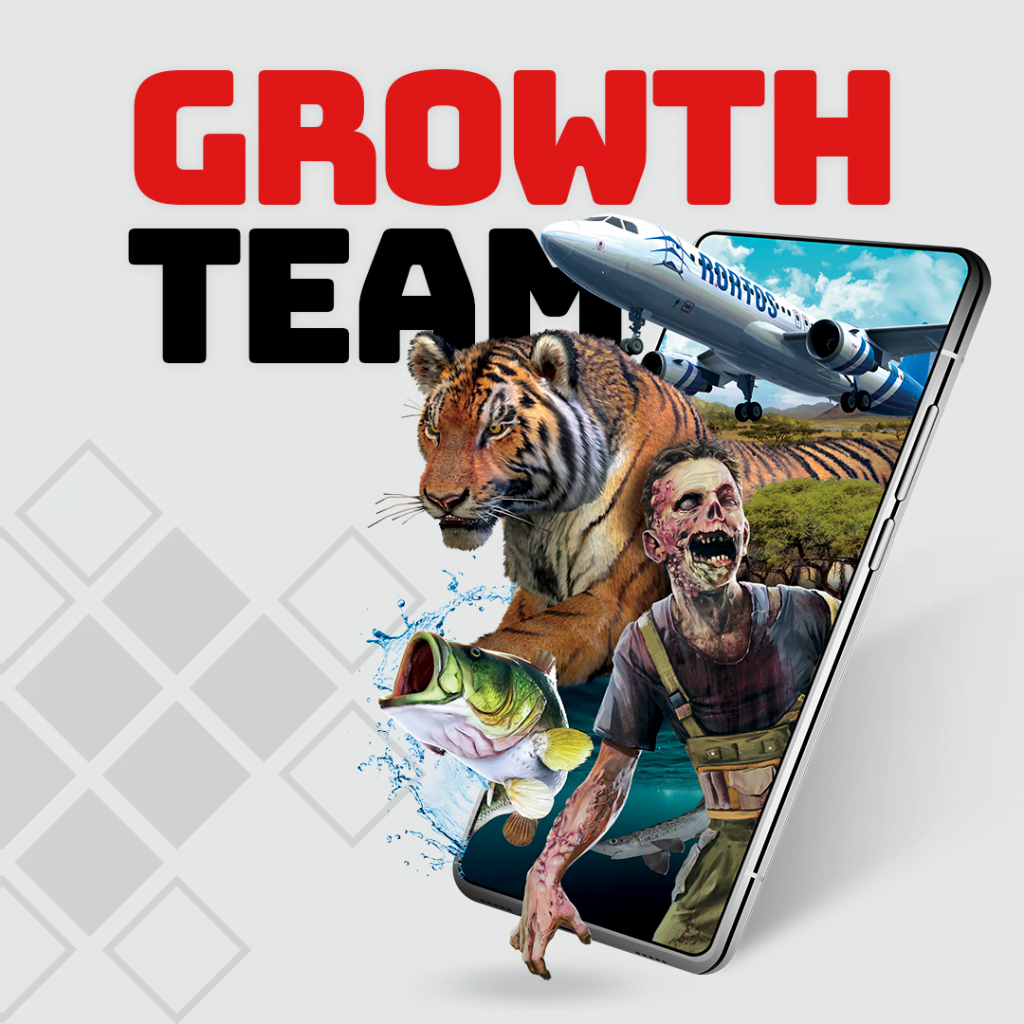 The Growth Team is focused on expanding our user base by acquiring valuable, engaged players through various marketing tactics. The team is made up of over 35 people of different specialties, working primarily remotely from all around the world.
The team uses several methods to achieve… Growth. From traditional ads-driven marketing campaigns through influencer marketing, all the way to in-game partnerships based on a wide range of intellectual properties. These efforts wouldn't be possible without the Growth team's designers and their incredible artwork, as well as the developers who are responsible for creating the tools necessary to track progress and create an informed strategy.

"The aim of our team is essentially marketing, which is why sometimes I even call us the marketing team. We work on acquiring valuable users for our products. To work efficiently, we work in sub-teams," Agata Bieńko, Growth Operations Manager, explains.

These sub-teams include the ASO (App Store Optimization) team, the UA (User Acquisition) team, and the Creative team. In addition, the team has members who handle Influencer Marketing and Business Development and Product Marketing Managers who coordinate growth efforts for each product.
With mobile marketing becoming increasingly competitive, the team must create high-quality growth content that will drive users to play and make purchases in our games. Almost every ad needs a creative touch.
We've asked a few of the folks from the team to explain their role in our team and how they've turned Growth into a well-oiled machine. Let's hear them out.
Watch Selina Springvloet's interview to learn more!
The Growth Engines
For a game to be successful, it needs to be available in shops like Google Play and the App Store. For many players, these shops will be their first interaction with a game, so it's very important to create an attractive offer that players will want to try out.
"Our job is to ensure that the game is both organically discoverable in stores and attractive to players coming from ads via copy and promotional creatives." Michał Mróz, ASO Lead, explains, "the first part requires us to describe the game using keywords and keyphrases the players of a given game would be searching for. The other part requires us to fit the visual side of the store page to the player's expectations. The game's icon, trailer, and screenshots have to be attractive and informative. All of this requires intensive A/B testing from us to see what our target audience actually enjoys."
What makes a good app store page?
"There's a lot of factors that influence it. First, the description and visual aspect we mentioned before. However, even the best page isn't going to convert without traffic, which is usually initially brought by a store featuring and/or ads. Basically, it's like a flywheel; once you get it going, everything is easier. Finally, there's the product: the game has to work and engage players. If the game has good retention and ratings, the store algorithms will boost them, and paid campaigns will be even more effective," Michał adds.
Once in the stores, the games are promoted through the UA team, who use a variety of mediums to get to the users.
"The last few years were the most challenging to date for mobile game marketing, especially on the UA side, with Apple's removal of IDFA and the discussion about privacy and changing metrics. But that's also good, and something I love about gaming because something's always changing, and you need to find new approaches to stay competitive." Selina Springvloet, Head of Growth, says.
With privacy-driven changes on the platforms and more and more companies gaining access to top-tier tools, marketing is competitive and rough, requiring a lot of effort to create the best possible campaign.
"Creatives in UA are more important than ever. Since we can't be as precise with our targeting, we must create high-quality ads. That's why almost half of our team are creatives, and the UA team is working closely with them to create those ads." Selina adds.
Because UA is becoming harder, games have to find new avenues for promoting themselves. One of them is Influencer Marketing, and at TSG, we've managed some very cool collaborations, including one with sketch comedian Ryan George.

Check out Ryan George's collaboration with Fishing Clash.
The Fuel
The team's art department creates a wide range of assets, from 2D art to advanced animations; the team consists of 3D Designers, Motion Designers, and 2D Artists creating new ads daily.
"If UA, ASO, and Influencer Marketing are Growth Engines, the Creative team is the fuel they need to run, and each 'Engine' needs a different type of fuel, be it 2D Art for ASO or videos and 3D art for our UA efforts," says Marcin Hołubiuk, Production Lead in the Creative team.
When it comes to creatives, every detail counts, and the team has to adjust to different needs stemming from the fact that different products require different approaches, which can be a challenge. Art for a store is oftentimes completely different from Facebook ads, and Airline Commander won't have the same approach as Fishing Clash.
"We get tasks from the other sub-teams with various levels of specificity. Sometimes, we get very pointed instructions which we follow to a tee, while other times, we get to go wild creatively. It's definitely an interesting balance." adds Paulina Bączalska, one of the team's 2D Artists.
Some of our team's creations.
The Cockpit
Balancing the needs of the product and growth can be a tricky act, which is why the teams need some tight-rope walking specialists to coordinate the efforts and come up with new ways to market the product. That's where Product Marketing Managers come in, coordinating the marketing activities for each product.
"This is quite a new role at TSG; when I was first convinced to take up the position, Selina described it as 'growth advocacy.' In reality, it was not just that but also product advocacy. The position is very complex, requiring being organized, planning, meeting deadlines, and a bit of negotiation. All of this, on top of the knowledge of UA, ASO, Influencer Marketing, and other aspects required to analyze the data and give feedback to the teams on the game's First Time User Experience," Hanna Węgrzyn, Product Marketing Manager, tells us.
This cooperation is paramount to the success of the game and its marketing. That's why it's very important to have a plan the right way.
"On the growth and product side, we try to create roadmaps for the following months/quarters, and the role of PMM is to coordinate the assumptions in these roadmaps to be consistent with each other and achievable," Hanna adds.
The Glue
To finish our little get-together, we asked what makes TSG's Growth Department unique.
"Teamwork," Paulina adds. "I can ask anyone anything and always get an answer. Nobody feels overly protective of the assets they create or their creations. Our goal is to be team first, and I feel like the atmosphere is fantastic in terms of supporting collaboration between our teams,"
"Definitely teamwork." Hanna adds, "we have an approach in which both successes and failures are shared. Products won't be successful without good marketing, but good marketing will be wasted on a weak product. Additionally, our BI department ensures that we can be data-driven, providing us with real-time information that can drive our decisions."
"We're a bunch of creative, team-first individuals." Marcin summarizes, "and I really love it!"