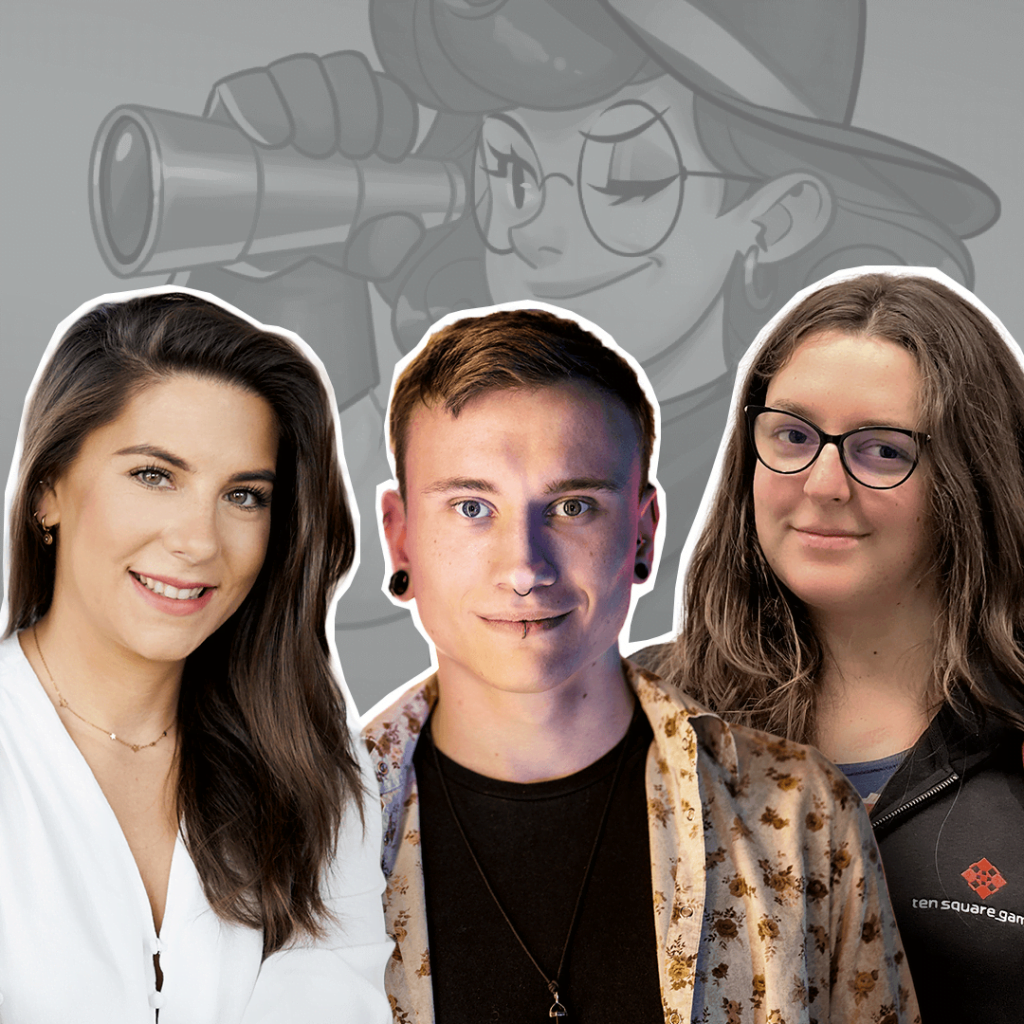 #GrowTogether and #DareToExplore are two of our core values at Ten Square Games, with good reason. We're constantly looking for avenues for our employees to develop. One of those is internal mobility, switching teams, or even entire departments in the name of those values.
We've talked to three such #TSGExplorers about their journey at TSG and why they took them. Check out what they had to say.
Where did the idea of change come from?
Olga Ostrowska, Operations & Sustainability Manager, previously ESG Manager, even more previously Office Manager: The first change came with the need to create an ESG (environmental, social, and governance) area, giving our activities a proper framework and strategic place in the company. My background is connected with sustainability (I used to work for the United Nations and hold a degree in international relations), plus I had some idea of how to harness gaming as a force for good to drive awareness and lead the change. So it kind of happened naturally – it was meant to be. Another change was a 'back to roots' type; I got the opportunity to handle operations in the Warsaw studio as a second area of my responsibilities. The idea came separately from three different persons who considered my skills suitable for this position.
Wojciech Ostrowicz, Junior Translation and Localization Specialist, previously in the Customer Support Team: I've always been into linguistics, or, to speak simply, I was into languages. I never connected my future to it, though, because I thought that it'd be impossible without a linguistics degree. When I came to TSG as a Customer Support Specialist, I almost immediately started getting mixed up in the localization teams' business. This came at a moment when a recruitment opportunity opened up, so I decided to give it a try. It wouldn't hurt after all. Well, it didn't!
Paulina Idziak, HR Specialist in the Learning and Development team, previously an HR Assistant in the Employer Branding team: Ania (Learning and Development Manager) was working alone on topics that are incredibly important for the organization. She needed support since she had little time and a lot of tasks, including simple administrative matters. I sometimes helped out when I had the time. I've always been interested in her area, given my education and experience (I'm currently completing a Ph.D. in psychology); Ania always encouraged me to observe the workshops since they may help me in my research and teaching duties.
How does your role differ from your previous role?
Paulina: In my new role, I have more contact with people and their needs. In the EB team, I was mostly responsible for events and benefits for a wide range of people, most of who I didn't know. When organizing training, I speak to people 1-on-1 more often, and get to know them by participating in various workshops, which I have to do to know what the workshops relay and evaluate them.
Wojtek: In the localization team, I ensure that our players can enjoy our games in their native languages. I also ensure the quality of the copy in products I work with. I check for typos, whether everything displays correctly, and whether everything has a "good sound" to it. Similarly to my previous role, I collect feedback from the players. We perform surveys about the legibility of the copy in-game and their quality, as these are priorities for our team.
Olga: My first thought to answer this was, 'it differs 180 degrees'. With Operations, I'm responsible for co-managing a team of over 30 people; I help run performance improvement processes within the studio, manage budget and forecasting, facilitate greater cross-departmental collaboration and organizational alignment and ensure team members are happy, healthy, and reaching their full potential. But with the Sustainability part, I also manage the whole area (budget, strategy, pipeline) – the difference is here, I can unlock my creative side and contribute to saving the planet, and not just the Warsaw studio ;).
Are you satisfied with your new role?
Wojtek: Of course I am! Not only do I work in a team with awesome people, but I'm also doing something I really love!

Paulina: The new role helped me learn about an area that I previously felt was shrouded in secrecy. Working in L&D resembles an iceberg. Every workshop requires many hours of conceptual and administrative work. I really like working with people in 1:1s, and conceptual meetings regarding the content of the workshops. I kinda miss the EB team (Editor's Note – we miss you too!), because there are only two of us in the L&D team. But thanks to that, I have a better chance of observing everything that's going on.
Olga: I really appreciate that I can develop myself in both areas (I didn't have to leave my ESG baby), even though it's quite a challenge sometimes. This combination makes me feel I can unleash my full potential.
How did this role change help you develop? What did you learn?
Paulina: Most of all, I appreciate the fact that I see more scientific theories being applied to practice, and I'm happy to be learning from that, observing the application of things I know to a business reality. I can learn about the workshops and the sources they're based on, so it's a massive amount of knowledge. I also needed to develop a lot of Excel skills and learn to be very exact due to dealing with budgets.
Wojtek: The new role allowed me to start from scratch as a localization specialist. A year ago I didn't know about most of the processes and practices that have now become a big part of my everyday working life. Of course, there's still a long road ahead of me, but at least I'm off to the races!
Olga: Oh boy! During my 2.5-year-long relationship with TSG, I've extended my scope of duties many times, and I did quite a lot of side projects/events, so I can honestly say I've grown as a professional and as a person probably three times faster than my peers in other companies. I've been lucky to be surrounded by great leaders and mentors, and I keep squeezing knowledge and guidance out of them like lemons. The main lesson over all these years is that impossible is nothing!
How do you rate the internal mobility process?
Wojtek: The process was well organized from start to finish. I took part in recruitment, the same as any other applicant, going through interviews and recruiting tasks. Once I got into the team, the transition was smooth.
Paulina: In my case, the process was smooth and clearly explained. Given that I transferred within a department, I was allowed to gradually swap duties, closing my EB topics. I'm happy that in my first months after the change, I was shown a lot of understanding when it came to combining the two areas.
Olga: In each case, I had enough time to prepare for the new role; it never happened overnight. The ESG area was tricky because that was something that had to be created almost from scratch. It required a big portion of extra work, but I always had support from the management team and other managers!
Olga, Paulina, and Wojtek are only a few of many #TeamTSG members who have decided to change teams and develop their careers in a different direction; each comes with a different story and a different process that takes the needs of everyone involved to help our employees, and teams grow. Want to see if you can #GrowTogether with us? Check out our openings!