2011
Ten Square Games is founded.

2012
Let's Fish is born (we've already mentioned our very brief childhood:) )

2013
Our first-born becomes famous with millions of players worldwide. Its parents are bursting with pride and joy.

2014
Let's Fish launches on mobile devices, reaching many new players.

2015
The Game Factory Model is launched along with new games.
2016
The Game Factory starts to bring revenue.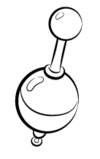 2017
Fishing Clash is born, and the Mango team is established to start developing new products.

2018
Ten Square Games enters the Stock Exchange Market.

2019
Hunting Clash is born – the aim is to create realistic animation to deliver unforgettable adventures.

2020
A new studio opens in Warsaw! Three new games are globally launched: Wild Hunt, Solitales, and Flip This House.

2021
We opened two new studios in Berlin and Bucharest, and we acquired Rortos studio (Verona). Fishing Clash entered the Chinese market!