We closed the first half of 2021 with long-awaited success – we received a license to publish Fishing Clash in China, one of the fastest-growing mobile games markets in the world. The production of the game version for users from the Middle Kingdom was a great challenge, but we set out believing that our fishing hit would win the hearts of new players.
Ambitious beginnings
– The process of obtaining the license began in 2018 – says Anna Idzikowska, Management Board Member and Chief Growth Officer. – Together with the founders of Ten Square Games, Arek Pernal and Maciej Popowicz, we visited China, looking for new business opportunities. From the very beginning, we were very ambitious about this project, talking to the largest publishers and avoiding potential obstacles along the way. Today we are where we wanted to be – emphasizes Anna Idzikowska.
Strong partnership
What was really important in our journey was that we reached the Great Wall with a strong local partner by our side. NetEase is the second-largest game publisher and producer in China and one of the ten largest gaming companies in the world. The game was officially approved in June 2021, along with 68 other titles, including Diablo Immortal, Pokemon Quest, and Marvel Duel.
NetEase also creates its own titles while placing considerable emphasis on advertising and building a community of players. This, in turn, gives us access to the global know-how necessary to build the success of Fishing Clash in this new and unique location. NetEase launched our game and provided it with the marketing support needed to scale up and fully test its potential. Our partner has also helped us adapt the game version to the expectations of local users.
Fascinating Orient
Breaking out onto such a large market and being attractive to players is a real challenge. However, at the same time it is exciting to showcase our game to the world's biggest mobile market, attain new players and learn more about the captivating Chinese culture.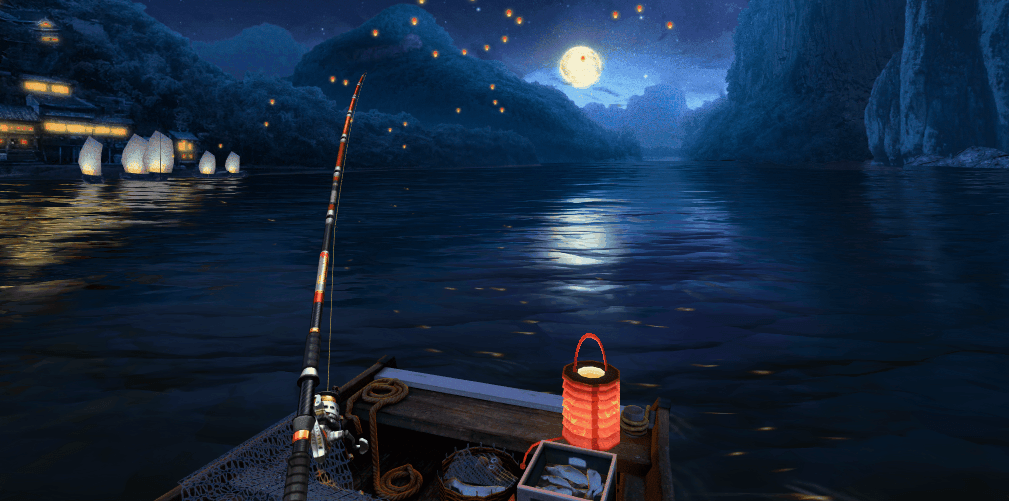 – One of the most interesting aspects of working on Fishing Clash China was a deeper understanding of Chinese culture – says Łukasz Modliński, Product Owner who supervised the title development until June. – We paid a lot of attention to its meanders and details to create a game in which our players from China will feel at home – adds Modliński.
The game was translated into Chinese with the help of our partners, thanks to which we are confident about linguistic correctness and that the context will always be understandable for players.
– On our part, we made sure that even the smallest details were adapted to Chinese culture. And by this, I mean not only adding game locations, such as the Yangtze River, but also changing the appearance of characters, card packs, backgrounds, small elements such as loading screens, as well as adapting the symbolism of colors, numbers, and animals that are as important in Chinese culture as the Yangtze River itself, the most important river for the country's economy – explains Łukasz Modliński.
Competition and quality
Currently, there are 10 active fisheries in the game and around 160 fish to catch.
– We plan to add new locations regularly, and over time, their number in Fishing Clash China will be the same as in the game's international version and we believe that Chinese players will approve of the sports elements of individual and group competition in the game – states Aleksandra Balińska, Product Manager.
Fishing Clas China offers our players well-known elements, such as special events, codes, and bonuses that can be obtained in the game. At the same time, the team keeps an eye on what our players in China like the most and adjust the game to their expectations.

– This is important because quality plays a key role in the Chinese market. Chinese players are very demanding in this respect. They are used to games developed with huge attention to detail, and we want to meet their expectations – adds Balińska.
Almost 800 million potential players
Where did the idea of expanding to East Asia come from? According to Newzoo's Global Mobile Market Report, the Chinese mobile gaming market is worth almost $30 billion. Impressive estimates are also provided by the Asian research agency Niko Partners, which forecasts that by 2025 the Chinese market will amount to $55 billion and have 781 million players. With this potential, the entry of Fishing Clash to China gives our product unlimited development opportunities – emphasizes Anna Idzikowska.
Entering one of the fastest-growing markets of mobile games is a huge challenge. However, the real achievement will be winning the hearts of local players. The first results of Fishing Clash China are promising, which allows us to look to the future with even more optimism and excitement and draw conclusions from this extraordinary lesson in business and cultural communication.