Should gaming be friendly to developers from other segments? What should a developer with experience in a software house learn in order to have a satisfying time in game development? We invite you to read a short conversation with Adam Czyszczoń, one of the winners of the #ROG4Creators contest and a graduate of Ten Square Games' Unity Boost program
How did it happen that we're sitting here and talking—working in one company?
When I was planning my next professional steps before last year's summer holiday season, I found a few interesting job offers at Ten Square Games. After applying for one of them, I received a phone call suggesting that I try my skills in the Unity Boost program for devs who want to develop in the mobile industry.
You said "yes", because…?
…Because I've always wanted to make games. They've accompanied me ever since I was a kid, and in time, my dream became to work in the gaming industry, but I forgot about it somewhere along the way. I was interested in programming ever since I was younger, I launched my first website in the 90s. I spent a lot of time in web development until I started looking for more creative work. That's when I decided to get into the gaming industry, which is a more multidisciplinary sector, allowing me to work not just with code, but also with graphics, music, and even physics.
What are your impressions of the Unity Boost program?
The biggest surprise was that we were making games right away! When I learned in the first days of training that I have to download Unity and make our first game, I wasn't sure that I was up for the challenge. I soon found out, however, that if you start and learn step-by-step, it's absolutely possible. Thanks to constant practice along with more and more theory, we managed to make more and more advanced games. All-in-all each of us made 8 games.
Eight games in three months? What else did you experience?
It was really valuable to learn through practice. This meant that we learned in stages, starting with simple physics, and increasing complexity from there. One of the hardest tasks for me was creating a simulation of the Solar System, allowing for interplanetary travel and landings. Writing dedicated physics for that sim was tricky, as was solving logical problems, like procedural planet generation. Before I tried, I didn't know game developers run into those problems.
Problem-solving is one of the biggest challenges in the creative process. How did you approach tackling those challenges in #ROG4Creators?
At first, I thought that I have 7 days to make the game, so I made its basic version in that time. When I found out I had more time, I spent the next week making fixes and polishing details. When I dealt with that stage, I managed to create two more playable levels. My ROG Powered Electro Body 2021 game is thus a pretty playable game with three active levels and three bosses to beat. It was an amazing experience, because not only do I love the cyberpunk vibes, I also always wanted to combine tower defense games with platformers. Finally, I'm really happy about winning, especially seeing how excellent the other works in the top three were.
You have completed the three-month Unity Boost program, you placed on the podium of the #ROG4Creators contest and you joined Ten Square Games. What now?
As a Unity Boost graduate, I received an offer to join Undead Clash and develop TSG's newest title currently being tested by players in the US. I'm happy with our cooperation, since I wanted to be in this project as soon as I heard that the company was making a zombie shooter. As a fully-fledged Unity developer, I have a real influence on what the game looks like, and I'm fulfilling my dreams of making games.
Thank you and all the best!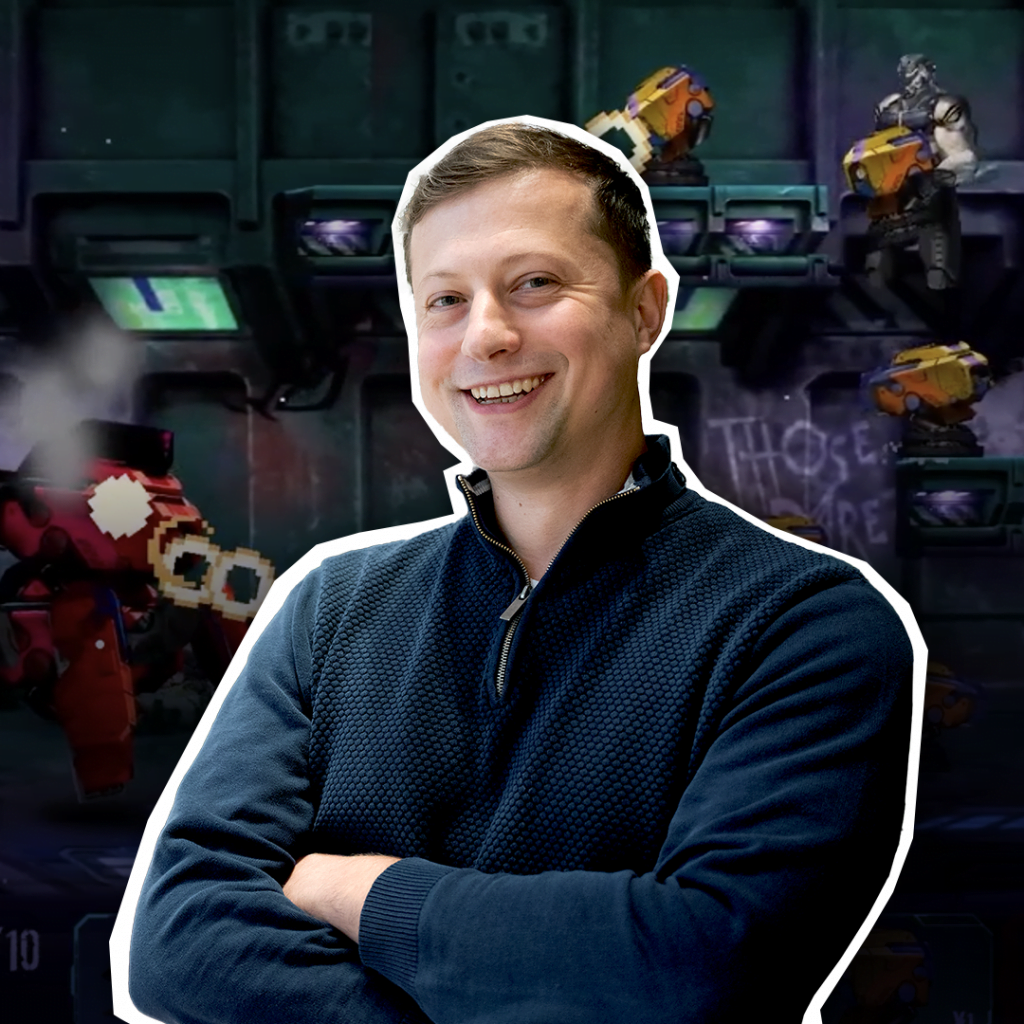 Adam Czyszczoń, Unity Developer used to be a Web Developer specializing in Java and AWS. Thanks to the Unity Boost program, he joined us and become a game developer. Currently working in our Undead Clash team. When he doesn't play video games, he builds electric vehicles with his kids or renovates his favorite gaming equipment, Amiga 500 and PS1.
#ROG4Creators
#ROG4Creators is a cyclical project created by ASUS' Republic of Gamers brand, targeted at game creators and lovers. Ten Square Games joined the project as an event partner. Participants who decided to enter the game-making contest were tasked with creating a new version of the "Electro Body" game by expanding a base game provided by the organizers with animations, graphics or scripts. The game was prepared by Paweł Szpiczakowski — one of the project's ambassadors, while the art was created by Agata Chamera from Ten Square Games.
The contest played out in two categories—the first for game creators, and the second for authors..
In the game making contest, the podium consisted of:
1st Place Bartosz Błachucki
2nd Place Adam Czyszczoń
3rd PlaceMateusz Antkowiak
In the story contest, Marcin Słowiak took first place, while Daniel Śliwa, Elżbieta Stolarczyk, Monika Streker, Mikołaj Nowak, and Konrad Jałocha received honourable mentions.
You can find all the contest entries here: rog4creators.pl